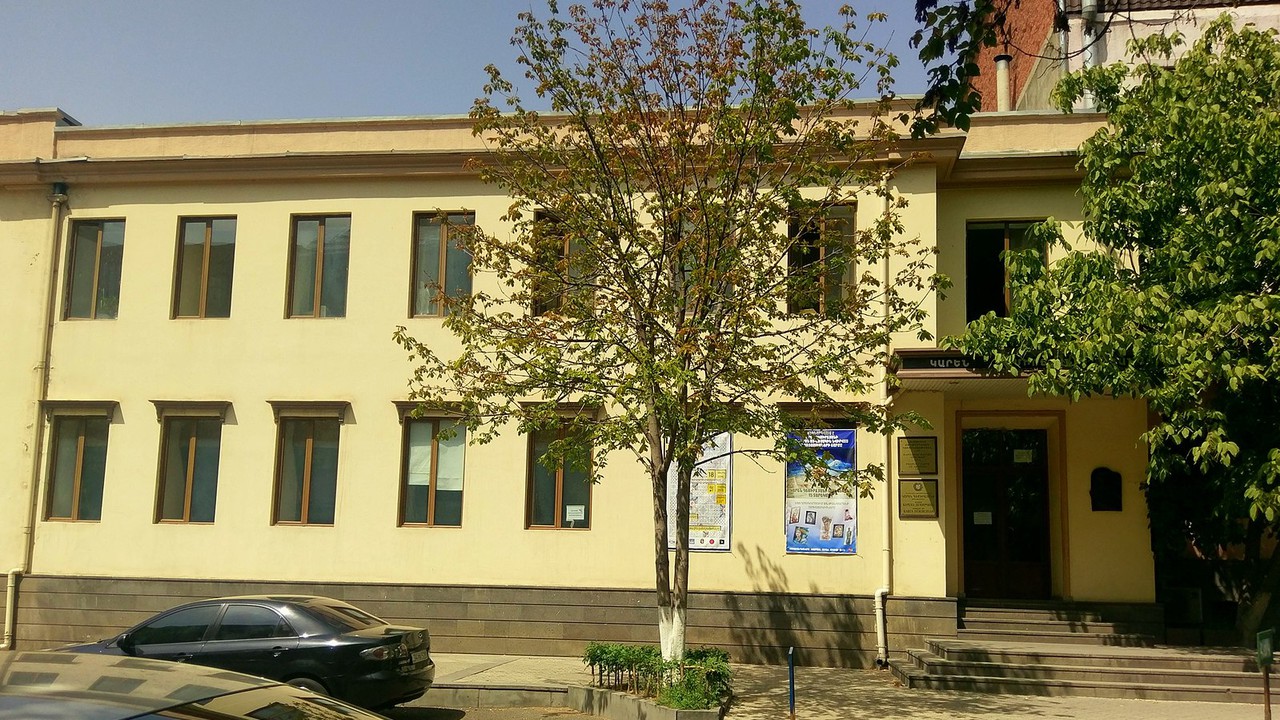 The Yerevan Metro, the Sports and Concert Complex, Yerevan School №139 are named after Karen Demirchyan.
---
The museum of the statesman and politician, the RA National Hero Karen Demirchyan was founded on January 9, 2001, by the decision №9 of the RA Government. The solemn ceremony of opening of the main exhibition took place on April 20, 2007, on the event of K. Demirchyan's 75th birthday. The museum was founded with the aim of studying and illustrating K. Demirchyan's life and activity, the perpetuation of his memory.
There are rich document materials in the museum: documents, photos, video films, personal items, governmental awards, as well as presents received from relatives, colleagues, such as works of art, gold Olympic medals, and so on. A part of them is displayed in two halls designed in modern style. The visitors of the museum have the opportunity to get acquainted with the life and activity of Demirchyan's companions-in arms who worked with him side by side under his leadership contributing to the development of the country.
Thematic exhibitions are often held in the museum: agricultural development in Armenia from 1970 to 1990, the history of the creation of the Yerevan Metro, the history of "Yerevan-Erebuni" celebration, and so on the aim of which is to summarize the activity of K.Demirchyan. At the exhibition, one can also find the furniture and items of the study of the first secretaries of the central committee of the Armenian Communist party used by K. Demirchyan and the previous first secretaries.
Karen Demirchyan worked at the desk shown at the exhibition during the time when he was elected the Chairman of the National Assembly as well. The museum has a library of political literature where the visitors can familiarize themselves in detail with the history of Soviet and post-Soviet Armenia. The personal archive of K. Demirchyan kept in the funds of the museum is of particular interest. The benevolent foundation "Karen Demirchyan" and the museum jointly published books, brochures, catalogs illustrating the life and activity of Karen Demirchyan.
The museum has an assembly hall where various events are held: scientific conferences, disputes, press conferences, meetings with representatives of science, culture, justice, and politicians. The family of K. Demirchyan always takes part in the activity of the museum, particularly the Chair of the Board of "Karen Demirchyan" benevolent foundation Rima Demirchyan.
WORKING HOURS
---
Monday-Saturday 11:00-17:00

Sundays and public holidays: Closed
The entrance is free.
---
+37410 531 710, +37410 535 521