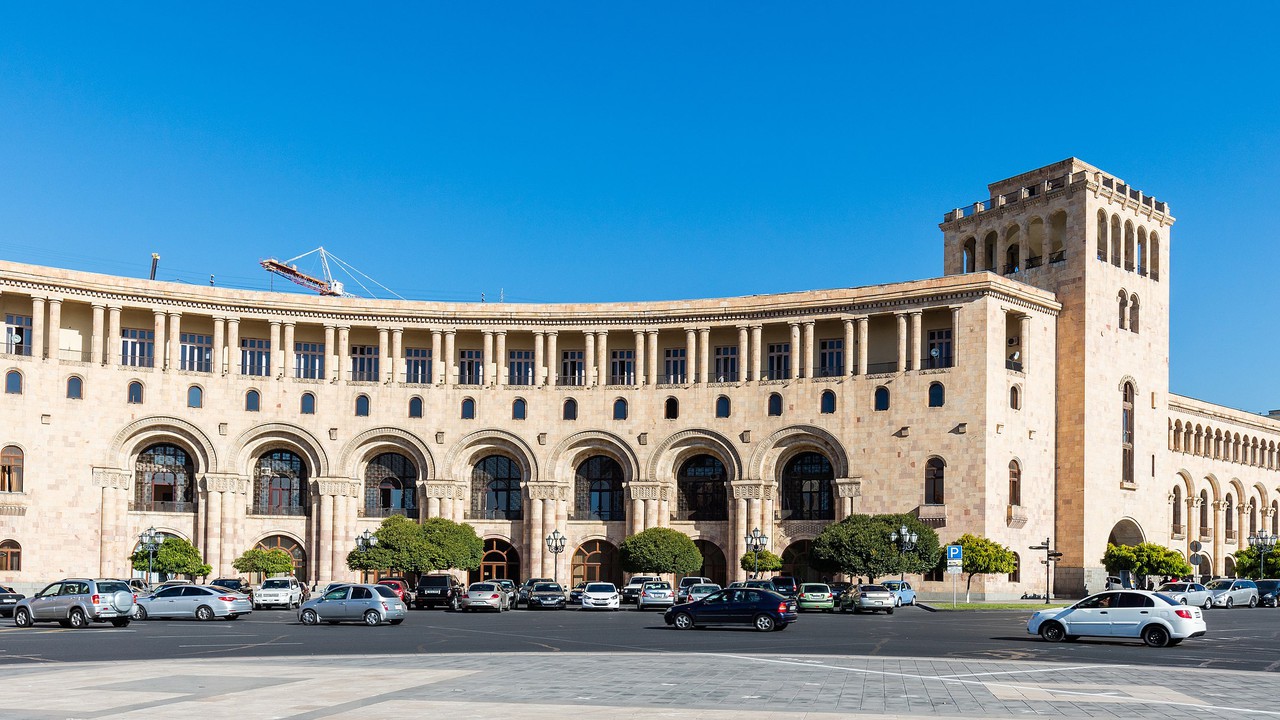 Republic square is the heart of Yerevan, the base of the General Plan of Yerevan designed in 1924-1936 by architect Alexander Tamanyan. It is situated in the center of Yerevan, in the junction joining Abovyan, Nalbandyan, Amiryan, V.Sargsyan streets, and Tigran Mets Avenue. Before the implementation of Tamanyan's draft, an open scare designed by Mehrabov used to be in this place. The square was built in a number of stages, the first and the second important stages were connected with the construction of the building of People's Commissariat of Agriculture (1926) and the House of Government, the architect of which was Tamanyan.
Republic square used to be called Lenin square. The monument to Lenin was erected in the south part of the square (sculptor S.Merkorov, architects N. Paremuzova, L.Vardanov) and after the collapse of the USSR, the monument was dismantled.
In the 1950s the surroundings of the square were completed: the building of the «Ararat» trust and the second House of Government, the buildings of Communications and Trade Unions, the hotel «Armenia» and the open colonnade in front of the House of Culture. In 1980 the State Art Gallery was added to the House of Culture.
Nowadays, the square has an oval form and the square part with the fountains and the basin is adjacent to it. The architectural style of the House of Government had a decisive influence on the creation of the decorative image of the square complex and it determined the proportions of the volumes of the square, and the height of the buildings. Flexible arches, national ornaments and a pale pink palette prevail in the square.
The square is one of the best architectural complexes of the Soviet period. In 1970 the square was awarded with the Arm SSR state prize. It was last re-constructed and improved in 2003-2004.
The central singing fountains of Yerevan are situated in Republic square and they were designed by architect A. Tamanyan in 1939, but they were constructed only in 1955 by architect E.Sarapyan's draft, and in 1970 and 1988 they were turned into colorful singing fountains.