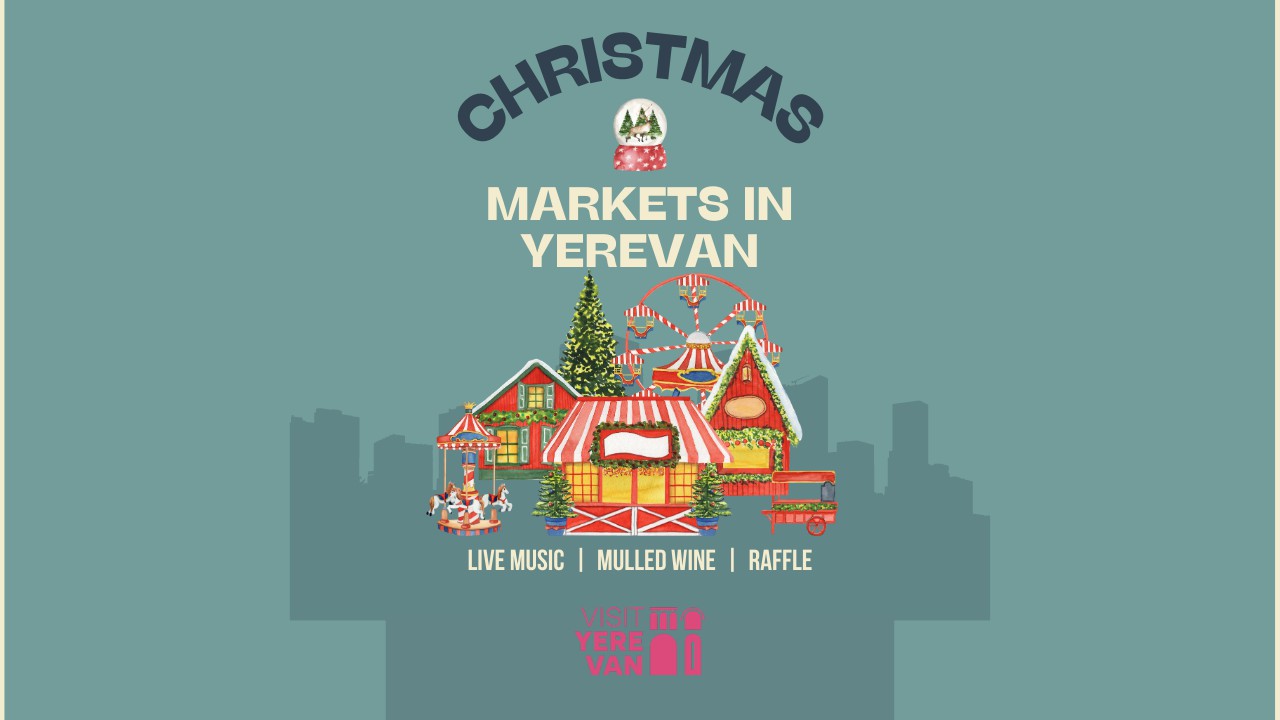 CHRISTMAS MARKETS IN YEREVAN
---
New Year's festive events have already started in Armenia.
New Year and Christmas celebrations in Armenia usually start from the beginning of December and last until January 13, the Old New Year. Various festive events are held in Yerevan and other major cities of Armenia.
The residents and guests of Yerevan can enjoy various entertaining concerts, theater performances, and events organized in the capital. In recent years, Christmas markets have become a tradition, where you can do New Year's holiday shopping, enjoy hot snacks and drinks, or just stroll around.
The markets didn't have a strong Christmas focus, they just were an opportunity for residents to stock up on supplies to so they can last through the coming winter months. Over time, winter markets became a Christmas tradition and spread to different countries of the world.
A typical Christmas market consists of small wooden stalls perched in the parks, streets, or central squares of the city. The Christmas markets traditionally offer Christmas cakes, gingerbread cookies, pancakes, various sweets, chocolate figurines, cotton candy, hot snacks as well as traditional Christmas decorations such as Christmas tree decorations, and local and artistic crafts products. Visitors to the markets are mainly attracted by the mulled wine, which helps to resist the cold.
For the first time, the Christmas market in Yerevan was opened in December 2012 on one of the busiest streets of the capital, Northern Avenue. The market consisted originally of 16 wooden stalls.
Every year, the number of cabins has been increasing. Starting from 2019, Yerevan Municipality initiated a unique Christmas market in the park after the 2750th anniversary of Yerevan, where visitors have the opportunity to make festive purchases and also enjoy winter in Yerevan.
This year, the following Christmas markets have started operating in Yerevan:

Christmas Market in the Park after the 2750th Anniversary of Yerevan
The "Christmas market" is already operating in the park of fountains dedicated to the 2750th anniversary of Yerevan's founding.
About 42 stalls present New Year and Christmas symbols, festive decorations, souvenirs, and a wide variety of sweets: New Year's confectionery, assorted chocolates, dried fruits made from various fruits, and hot wine.
Books, postcards, and stationery are also for sale.
The exhibition fair will be open from December 5 to January 6, daily from 11:00 a.m. to 11:00 p.m.
Christmas Market in «Seasons Park Station»
The area adjacent to the «Seasons» restaurant complex, located at 15/5 Mashtots Avenue in Yerevan's Diana Abgar park, has turned into a New Year's fairytale environment. Warm and festive atmosphere, good mood, and pleasant hustle and bustle reign in the park.
«Seasons Park Station» is not just a Christmas market, it is a unique place for happy and interesting family entertainment for both adults and children. The environment created with a completely new style, new approach, and taste will remind you of the New Year and Christmas in London.
The overall concept of «Seasons Park Station» resembles a train station with different stops of love, happiness, smiles, gifts, and more. Each stop creates an environment for positive emotions, excitement, and happy moments with friends and loved ones.
Visitors can buy gifts, delicious sweets, chocolates, coffee, and tea from the kiosks in the park for their loved ones.
The market will be open until January 13.

Christmas Market in «Winter Park»
This year in «Winter Park», which is located in the northwest of Yerevan,  a Christmas market has been opened with its colorful variety and fairy-tale atmosphere.
There is a very beautiful and symbolic tradition here: every year one of the best athletes of Armenia cuts the ribbon during the opening ceremony of the Christmas market. This year, the opening was announced by the world and European chess champion, Mariam Mkrtchyan.
The exhibition fair will be open from December 10 to January 15.
Christmas markets will also be organized in private areas such as:
At the Sports and Concert Complex named after Karen Demirchyan:  December 23-27 (Big Christmas Market with Coca Cola 2023);

In Megamall: December 15-31 (Mega Christmas Market 2022);

In hotels, business centers, and time-cafes