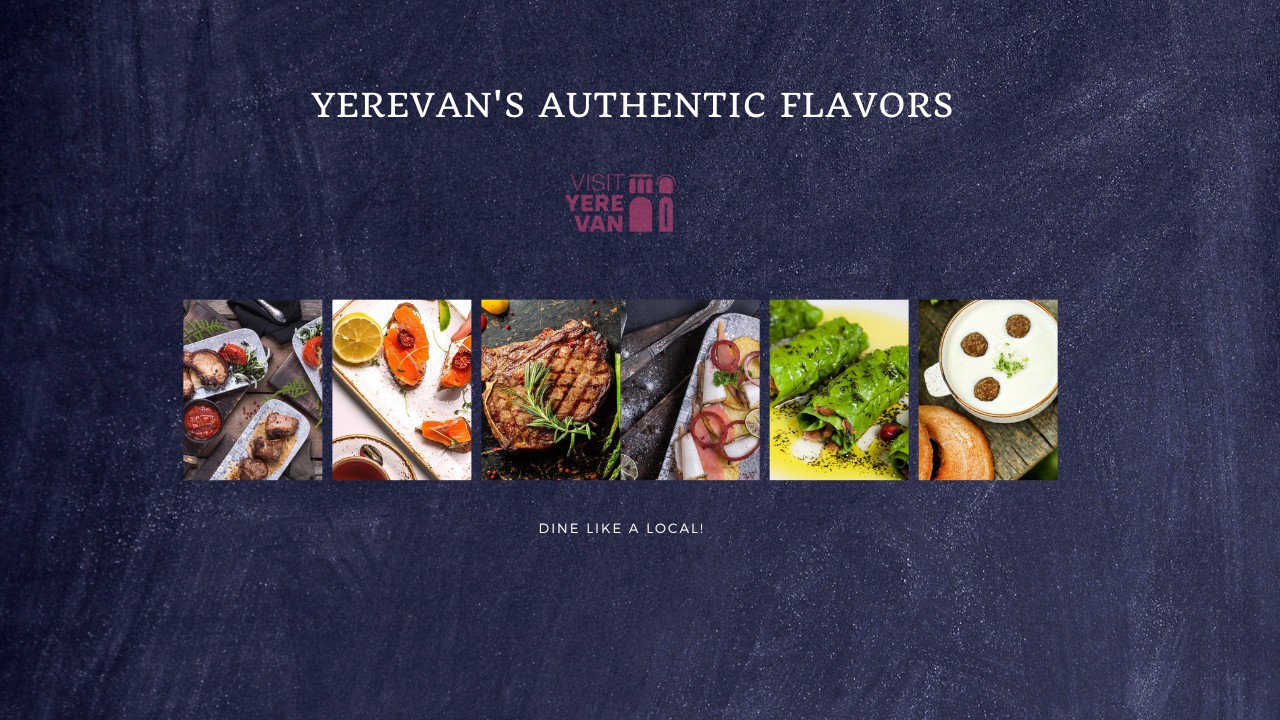 Yerevan Food Journey: Authentic Flavors at Local Restaurants
---
Welcome to Yerevan, the vibrant capital of Armenia, where history, culture, and delicious food come together to create an unforgettable experience. If you're a food lover in search of authentic local restaurants, you're in for a treat.
---
Enjoy your dinner in Yerevan, as the city is renowned for its array of authentic restaurants that boast special flavors and culinary delights.
Here are our top recommendations for embarking on a gastronomic adventure through the vibrant capital of Armenia:
1. Sherep Restaurant: A Fusion of Armenian Tradition and Modern Gastronomy
Let's start our journey at ''Sherep'' restaurant, located in the heart of the city. Here, you'll find a delightful fusion of Armenian traditional dishes with modern European angional influences. The menu at Sherep showcases a harmonious blend of flavors, giving you a truly unique culinary experience. Whether you're craving classic Armenian delicacies like dolma and khorovats (barbecue), or you want to try innovative dishes inspired by European and regional cuisines, Sherep Restaurant has something for everyone. Prepare to immerse yourself in a culinary journey where the rich heritage of Armenian cuisine meets the influences of modern gastronomy.
2. Gata Tavern: Embracing Armenian Food and Culture
Next on our list is
''Gata Tavern''
, where you can enjoy the delicious taste of Armenian food while immersing yourself in the heart of Armenian culture. As soon as you step inside, you'll be greeted by traditional Armenian music, songs, and dances, creating a warm and welcoming atmosphere. At Gata Tavern, you'll have the opportunity to experience traditional Armenian cuisine in a new and exciting way. Don't miss out on tasting the famous gata while embracing the spirit of Armenia.
3. Kamancha Restaurant: A Cultural and Culinary Delight
For a truly immersive experience that combines food and culture,
''Kamancha''
restaurant is the place to be. Here, you'll find not only authentic Armenian dishes but also national music that will enchant your senses. The open kitchen allows you to observe the preparation process, including the baking of traditional Armenian bread, lavash, in a tonir. Every evening, the restaurant comes alive with the enchanting sounds of Armenian traditional music, creating a one-of-a-kind gastronomic and cultural pleasure.
4. Dolmama: Where old meets new
If you're interested in exploring the fusion of old and new, ''Dolmama'' is the perfect choice. Specializing in dolma, a dish made with stuffed grape leaves, Dolmama has been on a mission to popularize and modernize Armenian food since 1998. With innovative presentations and flavors, Dolmama invites you to experience the exquisite fusion of old and new, celebrating the exceptional quality of Armenian cuisine while embracing its influences on neighboring culinary traditions.