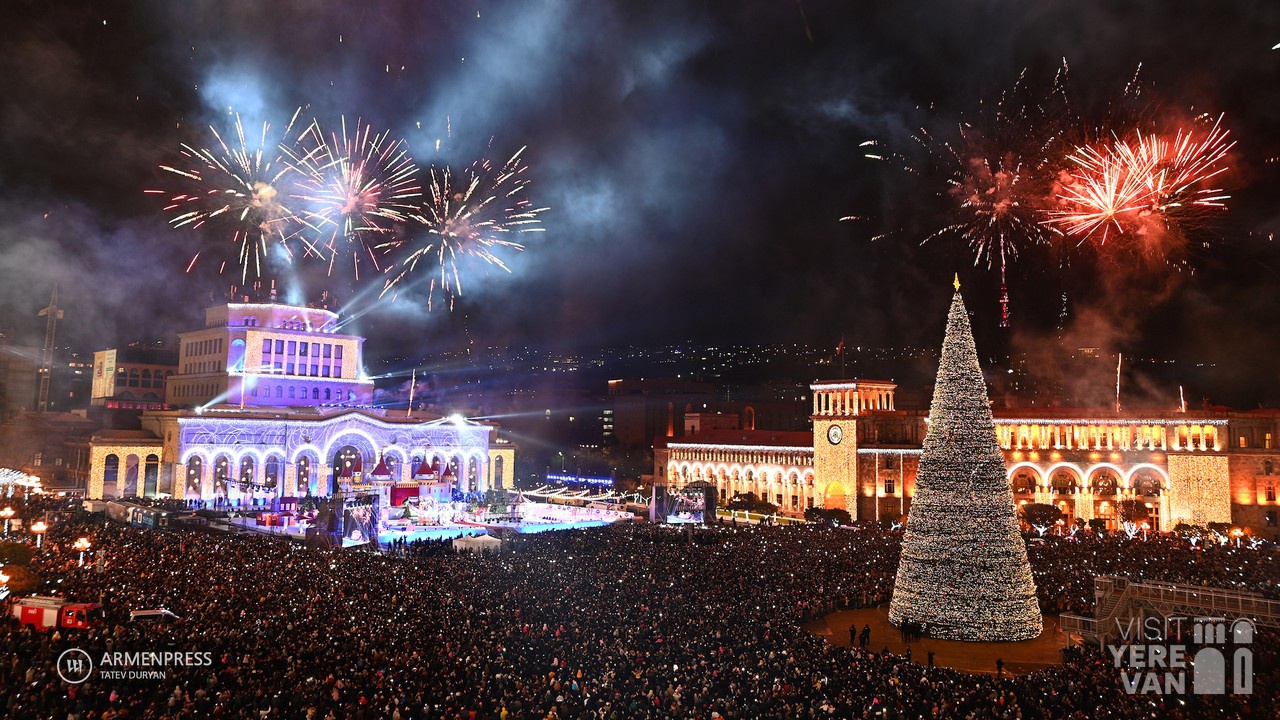 Fabulous New Year illumination of Yerevan and the festive events create a wonderful opportunity to discover Yerevan in a new way
---
During Christmas and New Year holidays festive illumination is always the brightest, the most mysterious and memorable part of celebration.
---
This year Yerevan stands out with new, unique and ultra-modern solutions in artistic lighting. Lights are believed to symbolize Jesus Christ's appearance and Christmas. This tradition originated from the times when fir trees were decorated with candles to bring in the light of Jesus coming to this world.
In the middle of the 20th century, people started decorating streets and buildings with strings of lights and the urban environment began looking more attractive and festive.
---
Where to walk? How to organize the festive weekend and to enjoy fairytale Yerevan?
Republic square, Mashtots avenue, Abovyan street, Northern avenue, Haghtanak and Kievyan bridges, the staircases of the Sport and Concert Complex after K.Demirchyan are highlighted with stunning illumination. Find the brightest and most splendid landmarks on the map below.
The New Year and Christmas programs in the capital will begin with festive events.

Starting from December 9, 7 concerts of popular singers and bands will be held in the park of fountains dedicated to the 2750th anniversary of Yerevan foundation. And here is the program to be enjoyed:
December 9, at 19:30 - Katil-band, Tmbata, Hogh
December 10, at 17:00 - Aram MP3, Kami band
December 16, at 19:30 - Freedom is Expensive Rosental, Lav Eli, Nemra
December 17, at 17:00 -  Vahagn Hayrapetyan trio, Karen Mamikonyan trio, New Quintet,  Levon Malkhasyan
December 23, at 19:30 - Arsen Grigoryan (Mro) and friends (ethno concert)
December 24, at 17:00 - Julianna, Funkabout, Yellowheart, Garage Records
December 31, at 23:00 - Gala-concert at Republic square: Garik-Sona, A Chilla, DJ Serjo, Lilit, Bambir, Gorgeous Beats, Rudolf Kharatyan ballet and other groups will perform their art.
By the way, Christmas market has already opened in the park of Yerevan's 2750th anniversary. You have a great chance not only to enjoy the concerts but also to do festive shopping.