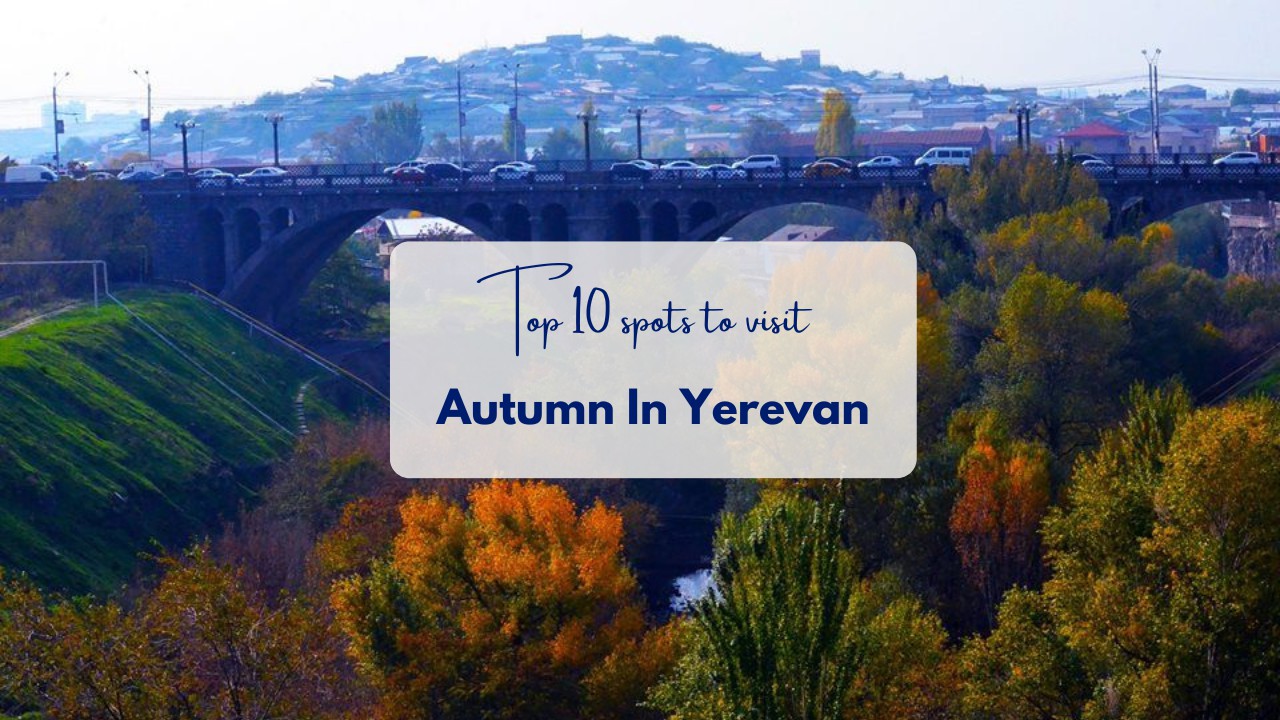 10 Most Beautiful Autumn Spots In Yerevan
---
Yerevan is famous for its four distinct and breathtaking seasons, but many visitors to the country often consider the Armenian autumn, which is commonly called "Golden Autumn" to be the most beautiful.
---
As the temperature dips after the scorching summer, the colors of the leaves change into vibrant shades of orange, red, yellow, and brown. In this season, the weather is not too cold and not too hot. This means you'll be able to catch the leaves anytime from the end of September through to December, until the first snow.   
The smell of fruits and vegetables and the vibrant colors of leaves make autumn exciting.  There are some spots you should visit during autumn in order to feel autumn's magic and merge with it. Yerevan is a walking city and the fall weather makes it ideal to wander around on foot. 
So get yourself into leaf-peeper mode and enjoy these top 10 spots that will give you a taste of autumn!  
The colors make you feel as if you're walking in a ray of sunshine. Come and enjoy the wonderful autumn in Yerevan!
---
1. Hrazdan Gorge

There aren't many cities with a gorge and remote nature in the middle of it, but Yerevan is an exception. Head down to the Hrazdan Gorge and walk from the Children's Railway Station along the tracks towards the stadium. You will find some of the city's best fall foliage and it is such a relaxing thing to do during this time of year.
It is the ultimate kind of attraction for kids, a place where time, years, and colors find a unique combination. A fairy-tale-like train moves through the picturesque Hrazdan River gorge, delivering a joyful ride to children. The journey starts from a beautiful park, near which there are cafes and narrow walkways, that might cast sweet childhood memories for adults.
Summer months can be a bit too warm in the gorge, but autumn is near perfect!  The river flows calmly past and it is even a great place to take a book or notebook and to read or write as you listen to the sounds of a season of transition.

''Yerevan Zipline Airlines'', as it is called, is a thrill and a unique thing to do in Hrazdan Gorge if you find yourself wanting to see the city from a different perspective.  This is the only zipline in the world that passes underneath a bridge (Davitashen). 
Tumanyan Park also known as ''Tumo park''  is located near the bridge, which is a wonderful place to hang out with family and friends. The breathtaking view of Hrazdan Gorge opens from the area of the park.
2. Yerevan Botanical Garden
In the autumn, it seems that all of Armenia is in the painting. One of the most beautiful places in the city is Yerevan Botanical Garden. It gives an opportunity for visitors to discover new decorative plants and wild herbs.
The Garden is home to 20 types of bushes and 100 species of herbaceous plants. Here are growing representatives of Caucasus, Crimea, Sibir, Eastern Asia, Japan, Korea, Northern America, and Europe.
3. Yerevan Zoological Garden



































Visiting Yerevan Zoo can be even more exciting if you decide to go during the cooler months, than in summer. Crowds are smaller, days are cooler and changing leaves bring a burst of color to the park. About 1200 animals and birds from different countries of the world are kept and shown in Yerevan Zoo.  At the main entrance of the Zoo, there is a stand that represents permanently registered unique animals, specific to Armenian fauna.
This park is not only a favorite place of leisure for Yerevan citizens and guests but also an important scientific center. 


4. The Cascade Complex
Cascade is the beating heart of the city. It is where the youth gather for drinks, it is where all open-air concerts are held, and it is where you can capture the best panorama of Yerevan. Cascade's benefits are probably countless. Cascade has been everyone's all-time favorite not only because of these high-end valuable artworks but because of the fantastic view of Yerevan that one can enjoy from the top of Cascade, with Mount Ararat standing behind Yerevan's iconic pink buildings. 
5. The GUM Market

Autumn in Armenia as in many other countries is a high time for harvest. This means that being in Armenia at this time of the year will have the opportunity to taste a large variety of fruits and vegetables. The GUM Market is a perfect place for tasting fresh fruits and vegetables in Yerevan. This market is also prominent in its dried fruits, sujukh, basturma and aromatic herbs.
6. Saryan Street

Strolling in Saryan Street is another favorite spot, which is packed with lively wine bars and studios. This street is literally just meant for the classical combination of fine drinking and art.  If you want to enjoy a wine or beer on a terrace bundled up with a blanket and at the same time admire the Frescas scattered throughout Yerevan on buildings and walls, you should definitely visit Saryan Street. 
7. Circular Park
Since the weather in autumn is generally pleasant and cool, it's also an excellent season for walking around. 
Circular Park, also known as the Youth Park is a favorite hangout place for students since it is close to universities. Besides the interestingly designed park is a great place for strolling.
8. Lyon Park & Vardavar Lake
Another park filled with brilliant reds, golden yellows, burnt oranges, and rich browns of fall is
Lyon Park
.
The park is popularly known as ''Tokhmakh''. It is home to an artificial lake called Vardavar.
In autumn Vardavar Lake becomes a mirror of colors. There is a monument in the lake, where it is mentioned that about 3 thousand years ago King Argishti built this lake and called it "Argishti Sea". Currently, the lake is frequently used for windsurfing.
9. Victory Park
You can see the panorama of autumn Yerevan from Victory Park. The views from here are breathtaking. On the 30th, instead of the present park, there used to be a desolate area. It was planted with trees in the 30-40s during Lenin's clean-ups. After the USSR's victory in the Great Patriotic War, on the event of Victory's Day, the memorial complex "Haghtanak '' was built. 
The statue of Mother Armenia, the grave of the Unknown Soldier, "No war" sculpture, the monument to border-guards, the Alley of Heroes, lake "Arevik", various attractions, and merry-go-rounds are situated in "Haghtanak" park.
10. Lovers' Park
As the landscape turns golden-orange and the sun sets earlier in the evening, your spirit will be filled with the warm glow of love.
Lovers' Park
is an ideal place to experience all these feelings. 
Many cultural events take place in this lovely park, which is popular both among loving couples and Yerevan citizens.