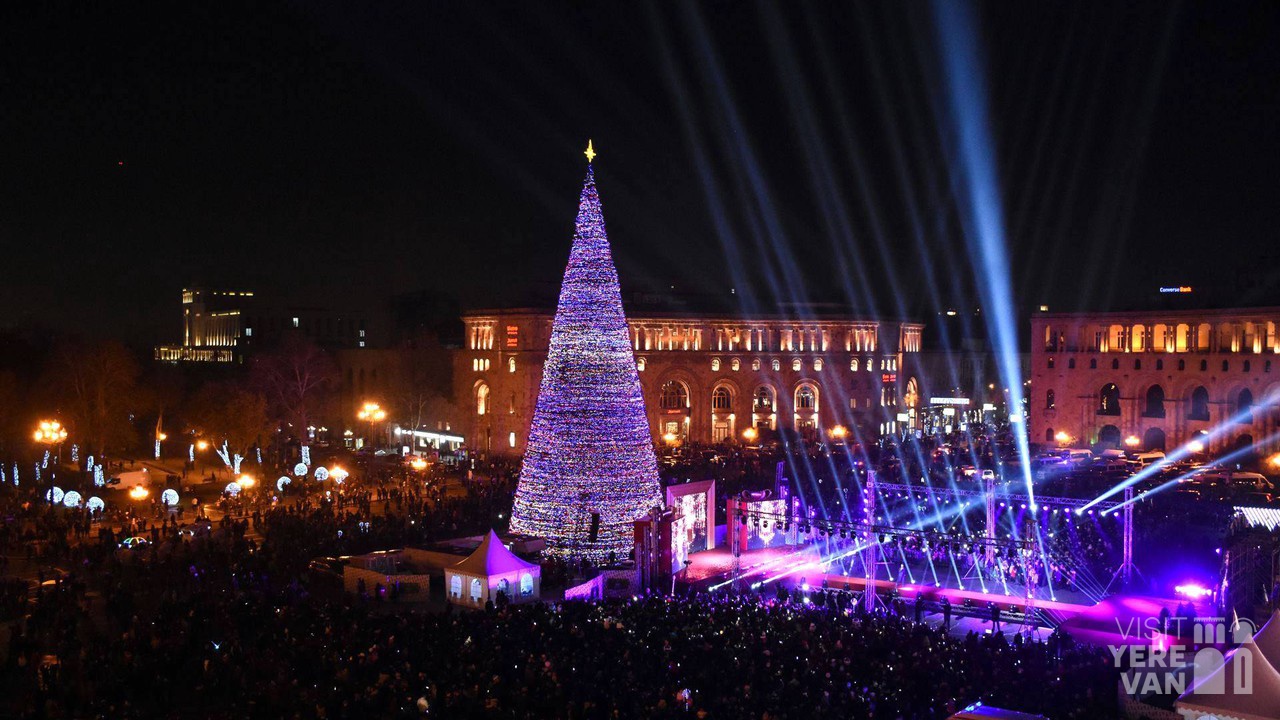 10 Things to Do in Yerevan During New Year and Christmas
---
If you haven't chosen your destination for this festive season, Yerevan can be an ideal place to go! There are many exciting activities you can enjoy in the beautiful capital of Armenia.
---
1. Visit the Christmas Market

The Christmas Market in Yerevan is such a wonderful place to visit during the holidays. Every year, cozy little cabins are decked with lights and Christmas decorations inviting shoppers to see their unique collections. This year, the largest Christmas Market will be hosted for 5 days (December 22-26) at the Sports and Concert Complex after Karen Demirchyan. More than 300 local artisans will be showcasing their products – Christmas gifts and souvenirs, silverware, games and toys, food and beverages, and much-much more. Markets like this are an entire island of entertainment. Aside from shopping, there will be Santa's House, photoshoot booths, movie viewing platforms, shows and live concerts. Also, this year for the first time a Christmas Market will be hosted in Tsaghkadzor (Dec. 22 - Feb.22). No wonder that the second largest market was chosen to be in the most popular winter city. Tsaghkadzor has the largest ski resort in Armenia and the city is very lively during this season.
2. Try Authentic Winter Food
Armenian cuisine is very rich with flavors and a variety of herbs and spices. Khash, Harisa, Ghapama are some of the most delicious dishes of the Armenian cuisine. These dishes are especially popular in the cold months of the year – they'll warm your body and soul!
After the main dish, you simply have to try an Armenian dessert. Gata is an authentic pastry, that must be served right out of the oven with freshly brewed coffee or, an even better combination, herbs tea. It isn't simply a cup of tea; it is a beautiful bouquet of aromatic herbs and flowers from the Armenian highlands... You'll feel it at the first sip. Pakhlava is another authentic dessert – made with multiple layers of buttered dough, honey, and lots of walnuts. And of course, Sujukh - the so called "Armenian snickers", a dessert made of walnuts and grape syrup. The colder it gets in the winter, the warmer and tastier the dishes become in Armenia. Bon Appétit!
3. Watch a Performance at the Opera Theater
The Ballet and Opera Theater of Armenia is one of the beloved sites both for the locals and tourists. Once in Yerevan, you absolutely have to attend at least one ballet or opera show! Aram Khachaturian's ballets, for example, are a one-of-a-kind masterpiece! The legendary music is played live by the orchestra during each performance. This winter season Puccini's famous Turandot concert performance will also take place here.
4. Go Zip-lining!
Try one of the longest and fastest zip lines in Armenia! Yerevan's zip line is exceptional since it passes under a giant bridge. Fly over the Hrazdan river and enjoy the beautiful views of the gorge. If that doesn't have you convinced, you can speed up to 140 km/h for the adrenaline junkies!
5. Buy Local Art
Vernissage is a large open-air market near the Republic Square metro. It is an exhibition of incredible handmade artwork with a constantly updating collection. Vernissage is one of the main creativity hubs in Yerevan. Here, you will find a variety of traditional Armenian jewelry, rugs, ceramics, wood carvings, paintings, musical instruments, antique furniture and much more.
6. Attend a Winter Fest
From December 10th to January 15th, a Winter Fest will be taking place in the English Park. During this period, visitors can enjoy multiple fun performances (musicals, dances, puppet theatre, and more). You can see a Sculpture Exhibition, all made of snow and ice, participate in snowball and other competitions, go Christmas shopping, enjoy fun artistic performances and simply have a great time at this cozy corner of central Yerevan!
7. Go Ice Skating with Friends
Ice skating in Yerevan is definitely a favorite during Christmas! The most popular ice-skating rinks are in the Winter Amusement Park, Sport and Concert Complex after Karen Demirchyan, and the Swan Lake. You can easily rent gear and enjoy your skating experience in the vibrant city atmosphere. The popular Swan Lake is located right in the heart of Yerevan. It entertains locals and travelers all year long. During warm seasons it is a nice place to meet with friends, have a picnic on the grass and watch a movie screened right on the lake. In the winter it is converted into an open-air ice-skating rink. Just put on a pair of skates and cruise around on the ice! Winter Park is a beautiful amusement center that operates all year-round. In the winter it becomes especially cozy and all the lighting and decoration make the park feel like a Christmas fairytale. At the park, you will find an ice-skating rink, cafes, Santa Clause's house, and many other activities. Yerevan's largest indoor ice-skating rink, however, is located at the Sport and Concert Complex after Karen Demirchyan. While many other skating rinks in Yerevan are fun outdoor places, this one is more professional, spacious, and well-maintained. 
8. Enjoy Local Craft Beer, Wine & Fruit Vodkas
Yerevan will offer you a variety of local craft beers, incredible wines, authentic fruit vodkas, and brandy. There is a unique culture of producing such beverages in Armenia, and many families even produce their own. Saryan street is known to be Yerevan's "Wine Street" where you will find bar after bar serving delicious Armenian wine. You can also visit the Yerevan Brandy Company and Yerevan Noy Wine Brandy Vodka Factory to learn about the production of these beverages in Armenia. Both factories offer visitor tours, beverage tasting, and shopping options.
9. Attend Cultural Events & Museums
You simply can't leave Armenia without visiting at least a few local museums and exhibitions! Yerevan is over 2,800 years old (this 
city is older than Rome!) and no wonder it has a very rich history. Each museum has a unique story to tell and it will leave you with some food for thought upon exiting. They will inspire you, pique your curiosity, and help you find yet another detail for completing the puzzle of Armenia. Some of the most beloved museums by the tourists are the History Museums of Armenia and Yerevan, Matenadaran (ancient manuscripts), Megerian Carpet, Cafesjian Center of Arts, Museums of Tumanyan, Kochar, Parajanov, Saryan, and many more.
10. Celebrate New Year's Eve at the Republic Square
Celebrate the start of the New Year at the Republic Square with thousands of locals! It is one of the most important celebrations of the year for Armenians and the entire city glows with a festive vibe. No one will seem like a stranger that day; people share love and joyful experiences together. Also, Yerevan's night life is vibrant and always fun! Jazz clubs, pubs, bars, discos – anything you wish can be found here. From live bands to energetic local DJ's – the music scene in Yerevan will make your visit unforgettable. We look forward to welcoming you in Yerevan these holidays!!!