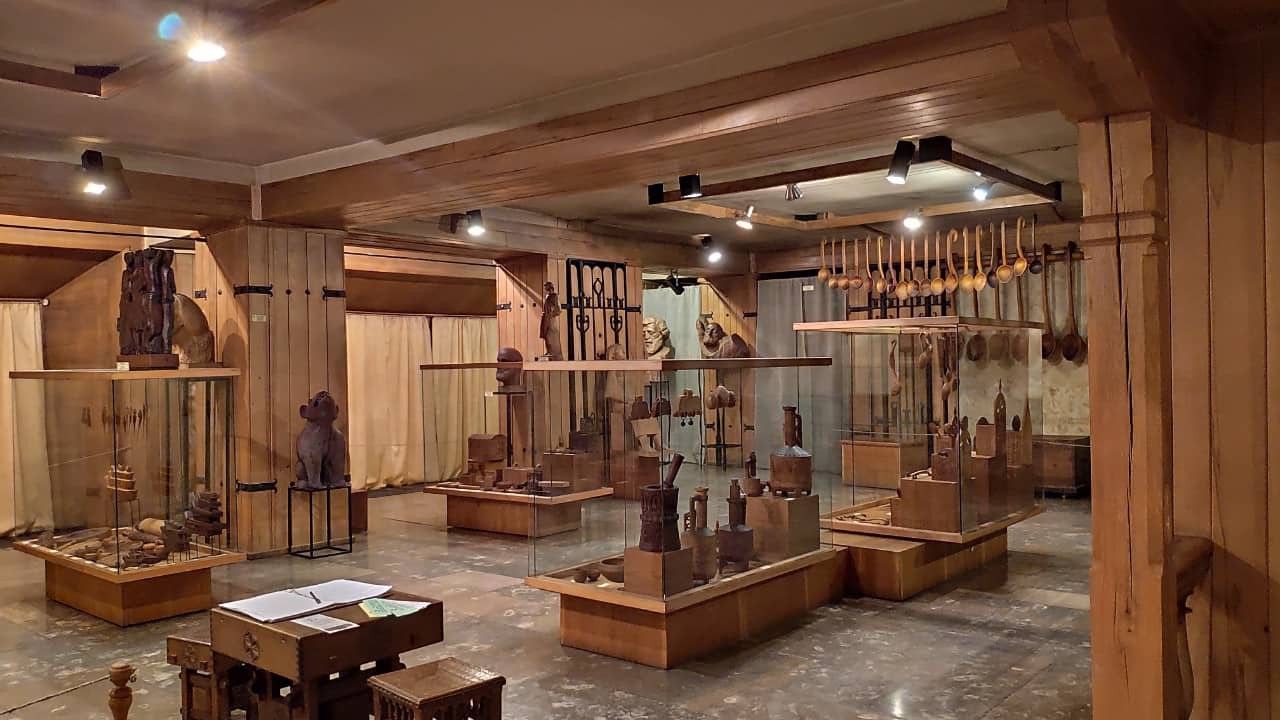 Hovhannes Sharambeyan centre of popular creation
---
The Museum is a unique hearth of national culture. Its mission is the preservation and popularization of tangible and intangible cultural heritage.
---
The exhibits of the House of Popular Creation founded in the 1930s by the efforts of an ethnographer and folklore specialist Habetnak Babayan served as the basis for the collection of the Museum of Folk Arts.

And on that basis, by the efforts of Armenian SSR Honoured Art Worker, Hovhannes Sharambeyan, who devoted himself to ethnic culture, the State Museum of Folk Art was founded in 1978 by the Ministry of Culture of Soviet Armenia.
It was renamed Hovhannes Sharambeyan Museum of Folk Arts in 2020.
The Museum has a branch in Dilijan and an exhibition hall of wood carving art in Yerevan (Paronyan street).
The collection of the Museum includes works of art processing of wood, stone, metal, articles of ceramics, lace, embroidery, rugs and carpets, paintings by self-educated painters. Donations by the Armenian Diaspora take a particular place in the collection.
The works of folk masters are unique cultural values that represent the folk art of almost all historical-ethnographic regions of Armenia and the stages of its development.
The activities of the Museum are aimed at preserving and developing ethnic culture. The Museum organizes exhibitions: solo exhibitions of works of folk masters, as well as international exhibitions of decorative-applied art. Organizes celebrations related to the holiday-ritual system, concerts of ethnographic songs and dances, evenings of choral and jazz art, presentations of books, albums, movie review-discussions, etc. Carries out scientific-educational activities: conferences, lectures, courses, master classes.
Since 2017, the employees of the Department of Preservation and Popularization of Folk Art have been carrying out courses within the framework of the government program of the development of provinces, in the communities from Syunik to Tavush provinces: embroidery, art processing of wood, ceramics, cross-stone making, painting, ethnographic songs and dances.
For different age groups, the Museum offers a number of educational courses: rug making, carpet weaving, embroidery, lace making, etc.
The Museum collaborates with educational institutions, travel agencies, various cultural institutions to develop and implement joint programs.
WORKING HOURS

---
Monday - Sunday: 10:00-20:00
ENTRANCE FEE

---
Permanent exhibition: 1500 AMD
WOODWORK EXHIBITION
Permanent exhibition: 1000 AMD

EXCURSION

---
Armenian, English, Russian, French: 3000 AMD
Educational programs: 1500-5000 AMD
WOODWORK EXHIBITION

EXCURSION

Armenian, English, Russian, French: 2000 AMD

Educational programs: 1500-5000 AMD

---
+37410 569 380, +37410 569 383