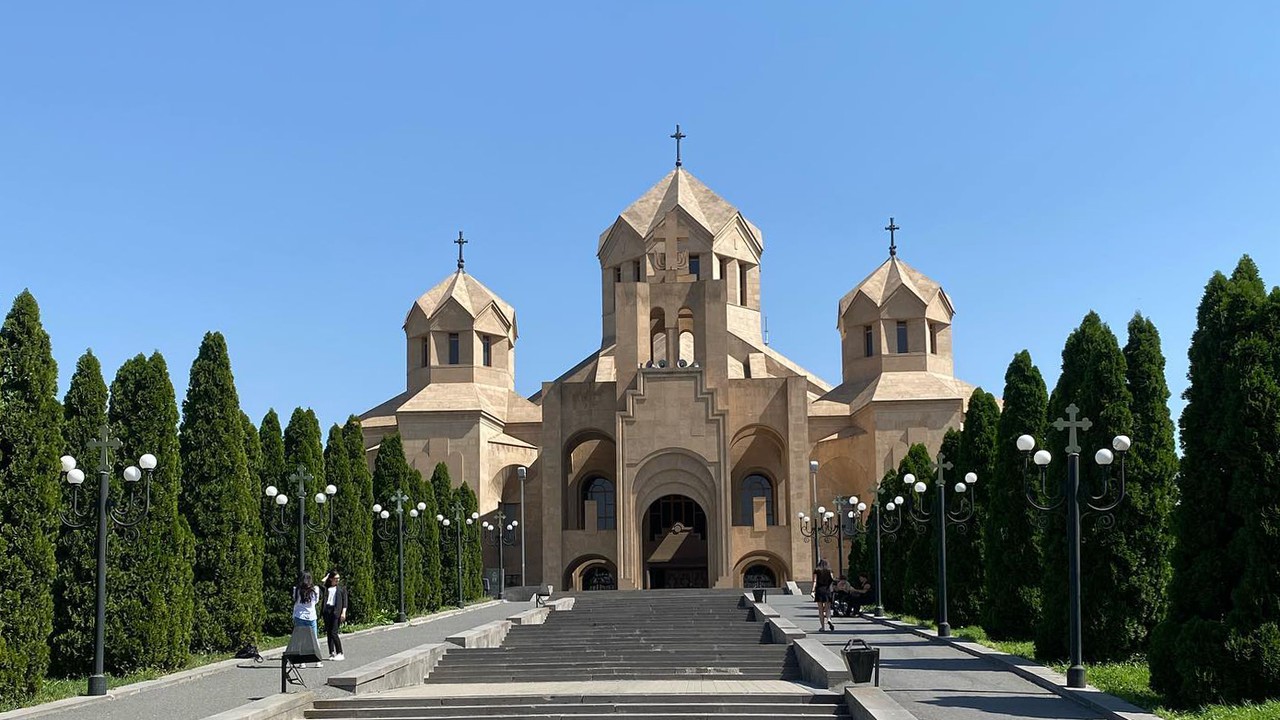 St. Gregory the Illuminator church
---
Armenia is the first country where in 301 the teaching of Christ received the status of a state religion, which became possible largely thanks to Gregory the Illuminator.

St. Gregory the Illuminator is currently the largest temple of the Armenian Apostolic Church in the world. It is located in the center of Yerevan. The Church was built by the initiative of the All Armenian Catolicose Vazgen I and was dedicated to the 1700th anniversary of the Christianity adoption in Armenia. The Patriarch personally placed a memorial stone in the place of construction of the church. The blessing ceremony of the church was performed by All Armenian Catolicose Garegin A in 1997 on the day of the Virgin Mary Annunciation feast, on April 7.
The complex was designed by architect Stepan Kurkchyan. The construction of the Church began in 1996 and ended in 2001. Among the honored guests at the consecration ceremony of the Mother Cathedral was Pope John Paul II of Rome.
Relics of St. Gregory, the Illuminator brought by Catholicos of All Armenians Garegin II Nersisyan from the Church of San Gregorio Armeno in Naples in 2000, are kept in the Church. The cathedral is a huge complex consisting of the main Church (1700 seats), St. Trdat and St. Ashkhen chapels (both 150 seats), a courtyard, and a belfry. King Trdat and Queen Ashkhen supported St. Gregory in spreading Christianity in Armenia.
The belfry tower, consisting of 30 arches and the courtyard is located at the entrance of the Church. There is a basement underneath the Church which houses the memorial of St. Gregory the Illuminator, a library, a hall for lectures and lectures, offices. The total area of the complex is around 3,822 square meters; the height is 54 meters.
Beautifully designed stairs lead to the entrance of the cathedral. On the left side of the stairs is the statue of Zoravar Andranik (zoravar - a military leader in Armenian), which has been standing here since 2002. Andranik Ozanyan was a famous Armenian fedayee and commander. From here begins the Circular Park, also known as the Youth Park, which stretches 5 km through the city center. 
The complex is mainly built of monolith iron and concrete and faced with the light orange tufa from the historical capital of Armenia- Ani. With its magnificent look it is seen from many parts of the capital.

The Main Church of the complex was built by the donation of Richard Alexander Manoogian and Louise Manoogian Simone, in the memory of their deceased father Alex Manoogian and his wife, Marie Manoogian. The construction of the two chapels of the complex was completed by the donation of Nazar and Artemis Nazarian and Kevork and Linda Kevorkian. The belfry was erected by the donation of Eduardo Eurnekian.