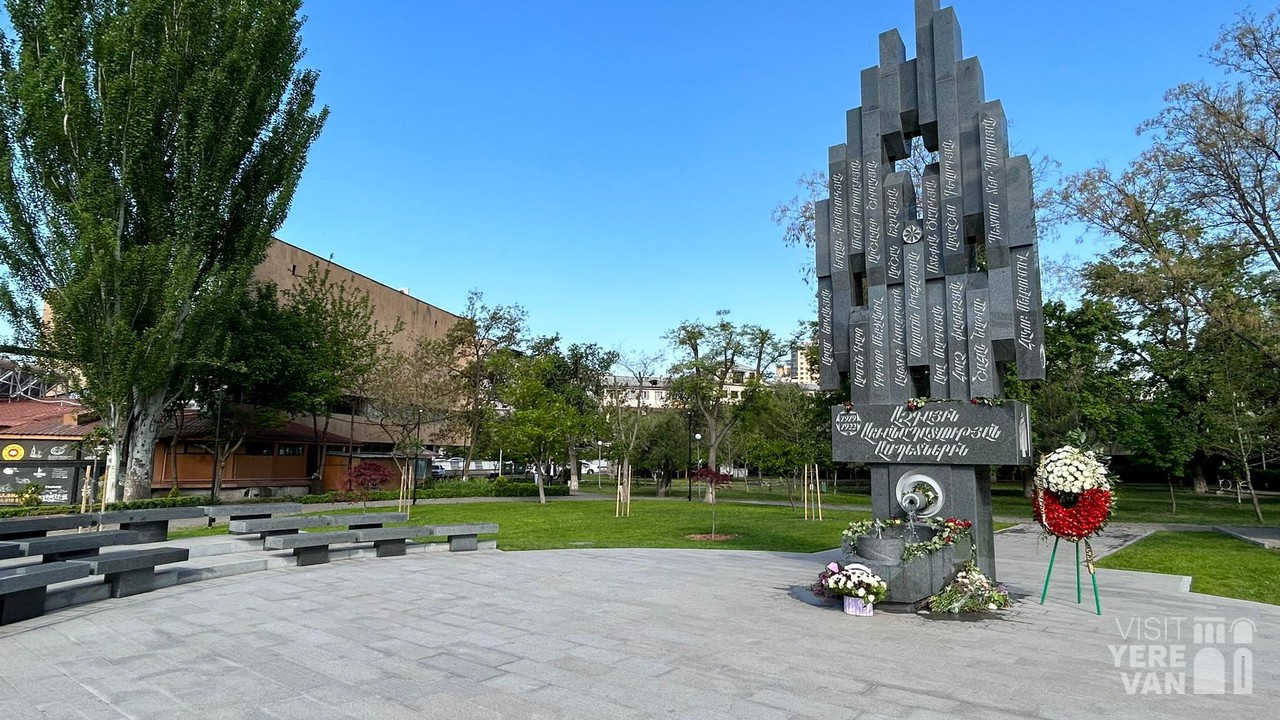 Architect: T. Barseghyan
Year: 24.04.2023
---
Almost a century after the Armenian Genocide, the sculpture commemorating the heroes of "Nemesis" initiative solemnly opened in the fourth segment of Circular Park.

The decision to conduct Operation Nemesis was made in Yerevan in 1919 in the strictest secrecy. The Congress of the Armenian Revolutionary Federation "Dashnaktsutyun" (ARFD) decided to execute the organizers and perpetrators of the Armenian Genocide. This operation, approved by the assembly, was called "Special Case", but is more commonly known as "Nemesis" in honor of the goddess of revenge in Greek mythology, Nemesis.
For three years, acting from the US and Europe to Turkey, the members of the organization destroyed about two dozen criminals, the instigators of the Armenian Genocide. Nemesis was a meticulously planned operation that began with intelligence work and ended with the execution of the sentence. Not a single random person was harmed in the execution of these decisions.
Since the operation was strictly classified, its organizers and participants were not disclosed for years, but now their names are known to everyone.
Soghomon Tehleryan, Aram Erkanyan, Armen Garo, Grigor Merjanov, Ara Sargsyan, Avetik Isahakyan, Hrach Papazyan, Shahan Natali, Hakob Melkumov, Yervand Fundukyan, Misak Torlakyan, Arshavir Shirakyan, Arshak Yezdanyan, Stepan Tsaghikyan, Artashes Gevorgyan, Petros Ter Poghosyan: the history of the heroic Armenians who took revenge of the leaders of Young Turks organized and committed the Armenian Genocide of 1915, and of those who committed the massacres of Armenians in Baku in 1918, will be presented to generations via this monument which is a special token of appreciation and a message of responsibility for homeland.
Kamo Areyan is at the origin of the initiative to create the monument. He reminded that 108 years ago in April, an entire country was covered in blood, but the Armenians responded to the state plan, which wanted to wipe Armenians from the face of the world and leave Armenia off the map, with the Battle of Sardarapat in 1918 and created the first Republic of Armenia.
"And the initiative of the ARFD in 1919 was a nationwide revenge decision, a decision to restore our dignity. The implementers of "Nemesis" were intellectual Armenians, the best ones, the most responsible ones. These men's graves are scattered all over the world," Areyan said and expressed his satisfaction that finally it will be possible to honor their memory in Armenia, in Yerevan.
The monument was placed by the decision of the Council of Elders. It should be noted that the petition for the memorial installation was submitted by the descendants of the Armenian Genocide revengers.
---
Circular Bulevar (in front of "Public Radio" building)