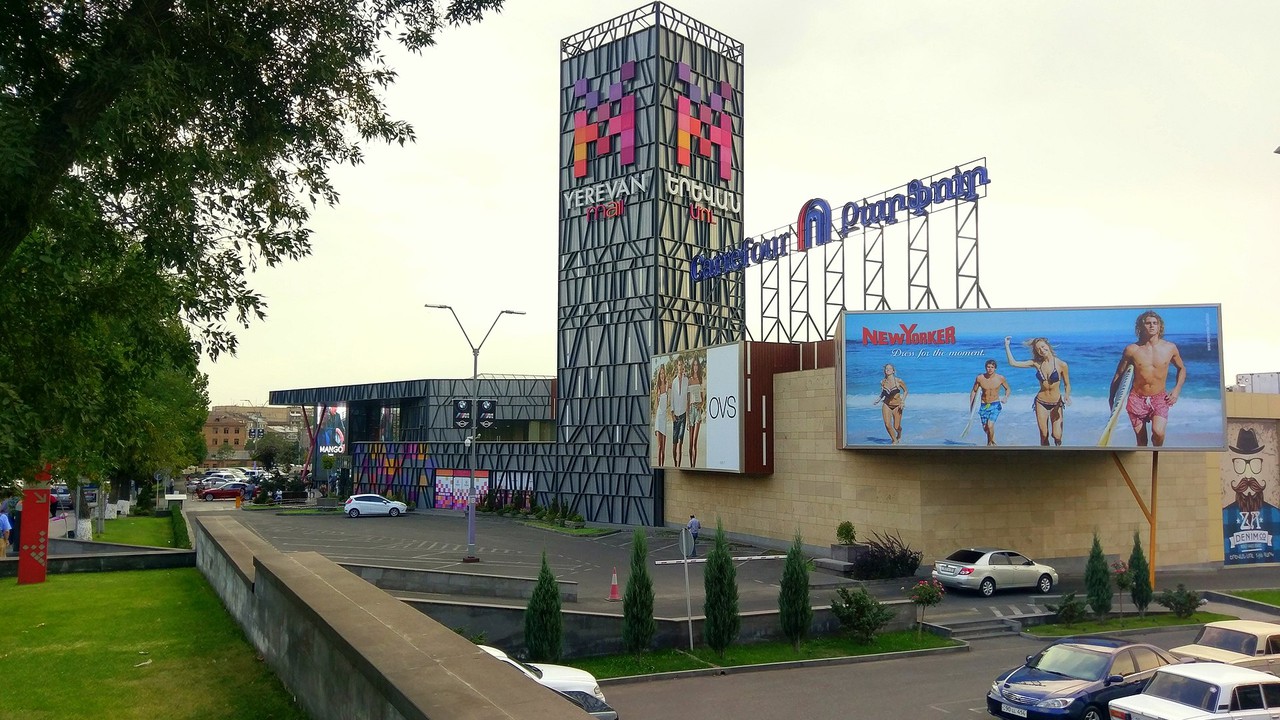 "Yerevan Mall" Shopping Center
---
The centre covers an area of 59,000 square metres and houses about 100 stores.
---
In "Yerevan Mall", in addition to many shops, you will find an entertainment center for children "Captain Kid's Treasure Island", a multiplex movie theater "KinoPark", food court, a hypermarket "Carrefour", pharmacies and optics, electronics stores, books and stationery, body care products and face, hair salon for kids, etc.
The shopping center is open every day from 10:00 to 22:00.
Fashion stores
Mango 
Mango men 
Zara

U.S. Polo



M.A.C
Kammsi
Lacoste
celio*
Carpisa
Zakaryan
ALDO
Bershka
Stradivarius
Parfois
Bolsero
New Yorker
Victoria's Secret
Colin's
UNO SHOES
BIZON
Roberto
Baldi
Basic Shoes
Levi's
Julia & More
Queen Lingerie
Baleno
Crocs
Damat Tween
Ramsey
Defonseca
Elegant
Gizia
Penti
INTIMISSIMI
Calzedonia
Lentex
ETAM
Elis
JOYMISS
Monsoon & Accessorize
Mavi
OVS
Zarina
Polin City
Quiz
Pull & Bear
Marks and Spencer
Blossom
SALI
GIORDANO
Rodolfo Zengarini
KEDDO
Stores for kids
Zara Kids
Zippy
COOL CLUB
NEXT
Jacadi
Okaidi Obaibi
Sergent Major
Choupette
Orchestra
Mega Toys
Begemotik
Accessories
Pandora
CHARM
Eiffel
TIME
Gnomon
Calypso
Vollmond
Nshanyan
DANZ
SiaMoods

Home design and accessories
Zara Home
MuyMucho 
Miniso
Praha
Violet Home Decor