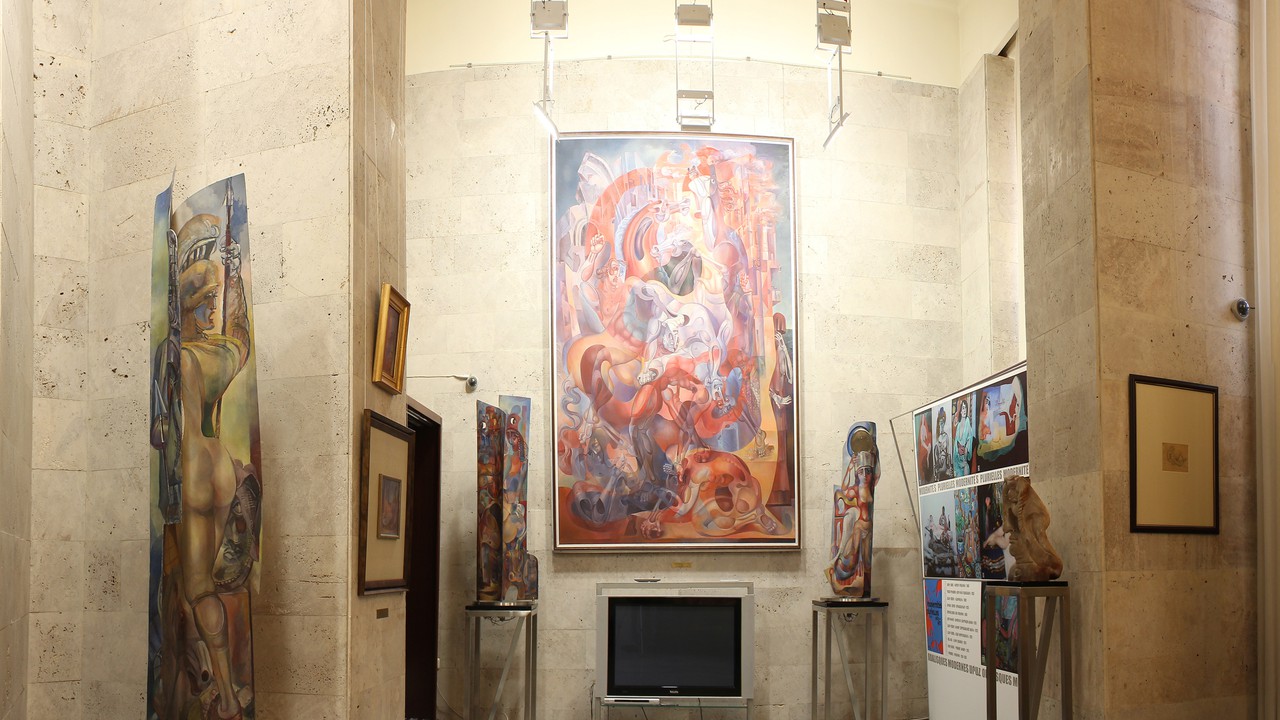 The museum is an important center for the study and promotion of the historical avant-garde in the region.
---
Artist and sculptor Ervand Kochar's (1899-1979) creative heritage is one of the most interesting phenomena of the 20th century modern art. Kochar in Paris, between 1923 and 1936 participated energetically in the creation of the historical Avant-garde art.  His creative heritage of the Paris period belongs to both  Armenian and European culture.  
Kochar was singled out and appreciated among  the artists such as Picasso, Brack, Arp, Leger, Miro, Delaunay, Chirico and others. 
In France Kochar founded a new plastic form of expression Painting in Space (Peinture dans L'Espace) which is one of the greatest achievements of Avant-garde in the opinion of the prominent art theorists. In 1936 Kochar signed the Manifeste Dimensioniste which was the herald of the newest aesthetic principles of the time.  Just the list of endorsements on the document (Calder, Arp, Kandinsky, Delaunay, Duchamp, Moholy-Nagy, and others) reveals not only the whole spectrum of elite avant-garde but also Kochar's role and place during this time and amongst the pioneers.
In 1936 he immigrated to Soviet Armenia and appeared on this side of the "Iron Curtain" where Stalin's terror raged. The road to return was closed forever ... Prison, persecution, and creative isolation followed.  However, despite everything, Kochar brought the spirit of modern thinking, new ideas, and innovative creative approaches into Armenian art. 
The Ervand Kochar Museum was opened in 1984 on the base of Maestro's studio. And it is only here and at the Pompidou Center in Paris that the miracle of Kocharian art "Painting in Space" is exhibited. Unique documents and valuable facts of his connections with the leaders of Avant-garde are also displayed. 
Ervand Kochar Museum is a unique research and propaganda center of historic Avant-garde in the region. 
WORKING HOURS
---
Tuesday - Wednesday: 11:00 - 17:00
Thursday - Saturday: 11:00 - 20:00

Sunday: 11:00 - 18:00

Monday: Closed

ENTRANCE FEE
---
Permanent exhibition: 1600 AMD

EXCURSION
---
Armenian: 4000 AMD
Foreign languages (Russian, English): 5000 AMD

Educational programs: 1000 - 3000 AMD