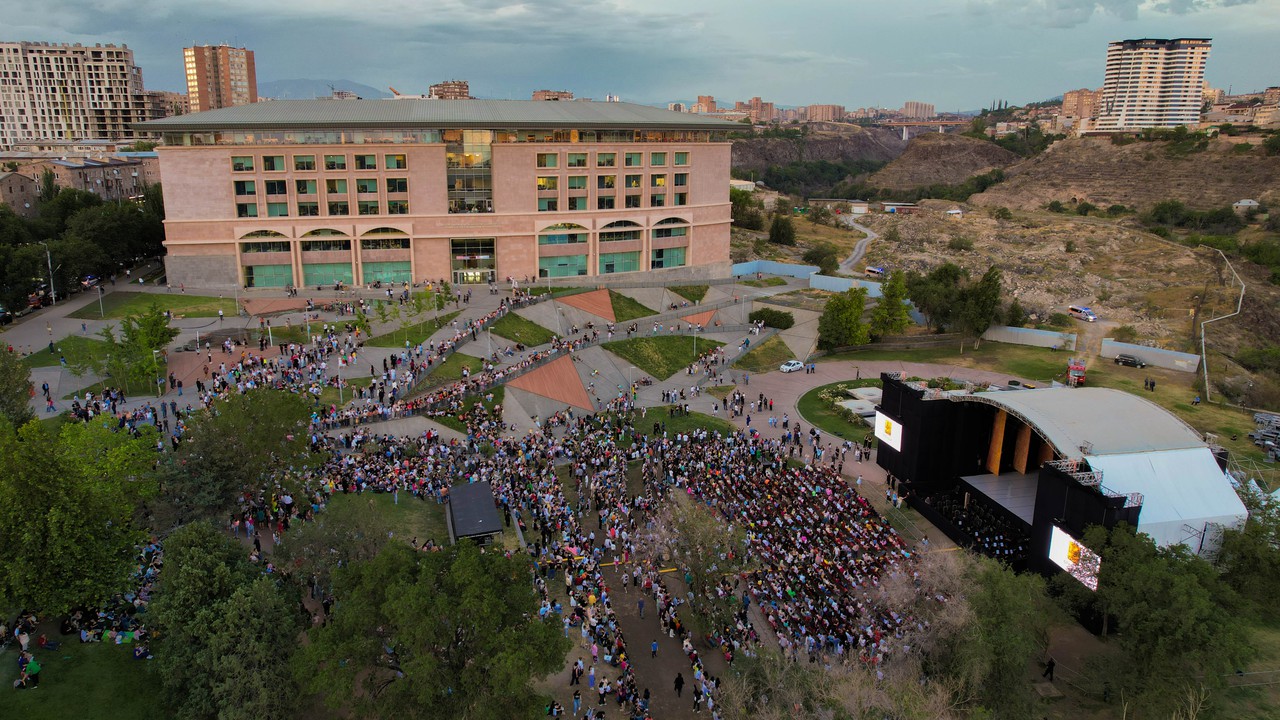 Outdoor ballet performances in Yerevan
---
Open-air ballet performances are taking place in Yerevan, featuring Aram Khachaturian's masterpieces at ''Tumo'' Park.
---
On the occasion of the 120th birth anniversary of the famous Armenian composer Aram Khachaturian, his unique melodies were played in ''Tumo Park'' in Yerevan for three consecutive evenings.
The Armenian National Opera and Ballet Theatre named after Alexander Spendiaryan performed Khachaturian's renowned ballet performances "Gayane," "Masquerade," and "Spartacus," involving over 500 participants.
Open-air performances are a new experience in Yerevan, as the profound artistic value often associated with traditional theater venues may not carry the same impact outside the stage. However, the audience gathered in the park, comprising individuals of all ages, remained captivated by the performances, maintaining complete silence.
Aram Khachatrian is an internationally renowned composer, with his works being performed worldwide. UNESCO recognizes Khachaturian as one of the most renowned composers of the 20th century. His ballets, "Gayane" and "Spartacus," have been staged in numerous countries, including Germany, Poland, various Latin American countries, Egypt, and over 20 countries in the former USSR.
The "Sabre Dance" from the ballet "Gayane" has gained immense popularity and is among the most frequently performed musical compositions worldwide. Interestingly, it brought great fame to the Chicago Symphony Orchestra, becoming the first recording to sell over a million copies.

Aram Khachaturian's melodies have also been featured in films such as Stanley Kubrick's "2001: A Space Odyssey," Petrov's "The Battle of Stalingrad," and Romm's "Admiral Ushakov," "Secret Mission," among others. The composer has spread his music and performed concerts on prestigious stages across all continents, with the exception of Antarctica and Australia. Over time, his compositions have also found their way into Australian cities. As of now, the only place on the planet where Khachaturian's music has not been heard is the white desert, where even the concept of time zones seems irrelevant.
In Yerevan, all three ballets by Aram Khachaturian were performed outdoors for the first time. The project, initiated by the Yerevan Municipality, aimed to popularize Armenian ballet and provide the citizens of Yerevan and visitors with the opportunity to collectively enjoy Khachaturian's melodies during the pleasant Yerevan evenings.