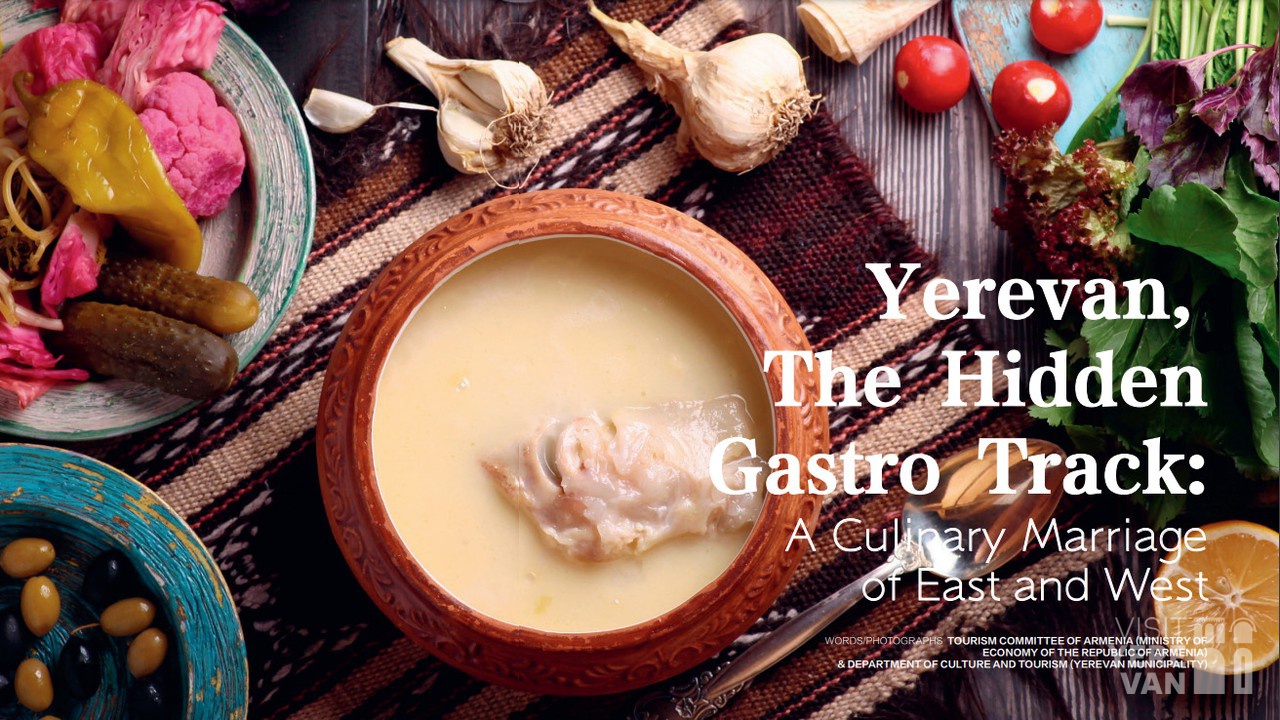 YEREVAN, THE HIDDEN GASTRO TRACK - A CULINARY MARRIAGE OF EAST AND WEST
---
As early as 2022, ''World Tourism Cities Federation'' launched a new project to promote diverse national culinary cultures along the ''Silk Road''. For the cities that are members of the Federation, this is a real opportunity to present their local culinary culture to tourists, the main goal of which is to reveal the secrets and characteristics of the national cuisine. On the initiative of the Department of Culture and Tourism of the Yerevan Municipality and in cooperation with the Tourism Committee of the Republic of Armenia, a comprehensive article titled "Yerevan, the Hidden Gastro Track: A Culinary Marriage of  East and West" was developed and created, which aims to discover the dishes, gastro and eno-oriented festivals, unique local natural products, dishes and unique culinary culture of Yerevan, the capital of Armenia.
The article was published in Chinese and English at the following link.
All information is available to 228 members of the international tourism organization, which covers 75 countries and regions, including 150 cities and 78 institutional member cities.
Throughout thousands of years of the history of mankind, the ''Silk Road'', while serving as a trade route penetrating through the Eurasian continent, has contributed to the cultural exchanges between different nations and, as a consequence, led to countless cultural achievements. More than just the key to the life of mankind, food also symbolizes in a marvelous way the culture of a nation. Nowadays, as unique tourism resources of cities, local cuisines play an important role in attracting tourists. It is well known that Silk Roads has left a legacy of shared gastronomic heritages which is enjoyed all over the world today. 
Armenia's capital city Yerevan is home to a blossoming and increasingly popular gastro-tourism scene. Nestled along the ancient Silk Road, Armenia's unique culinary culture remains one of the best-kept secrets on the peripheries of Europe.
Yerevan has charm in spades and carefully selected dishes that tell the story of the Armenian people. Armenian dishes are brimming with freshness. Like tolma, stuffed vine or cabbage leaves, eggplants, or other vegetables with meat uniquely spiced and seasoned... With the crown jewel of Armenian cuisine being khorovats (barbeque), a necessity on the table for any Armenian celebration. 
On top of that, Armenia offers plenty of delicious vegan dishes, like ghapama, a rice pilaf dish with dried fruits and spices baked to perfection inside. Or jingalov hats, a delicacy of thin lavash bread stuffed with over 40 different herbs. 
An ancient and enduring symbol of Armenian heritage is bread called "Lavash". It is not just bread, but also an element of culture that has religious and cultural significance in the life of Armenians.
Since the nature of Armenia is indescribable, the rivers and lakes here are stocked with different local fish particularly "ishkhan"(trout). Thanks to its excellent taste the trout became a true delicacy for local gourmets. 
Moreover, Armenia is also known as the cradle of winemaking. An annual street festival called ''Yerevan Wine Days'' is a unique meeting place for wine lovers and winemakers.
It gives an excellent opportunity to Armenian winemakers to present the traditions of Armenian winemaking. 
Yerevan truly is the hidden gem for foodies and gastro enthusiasts. But be sure to visit soon... It won't remain hidden for long!