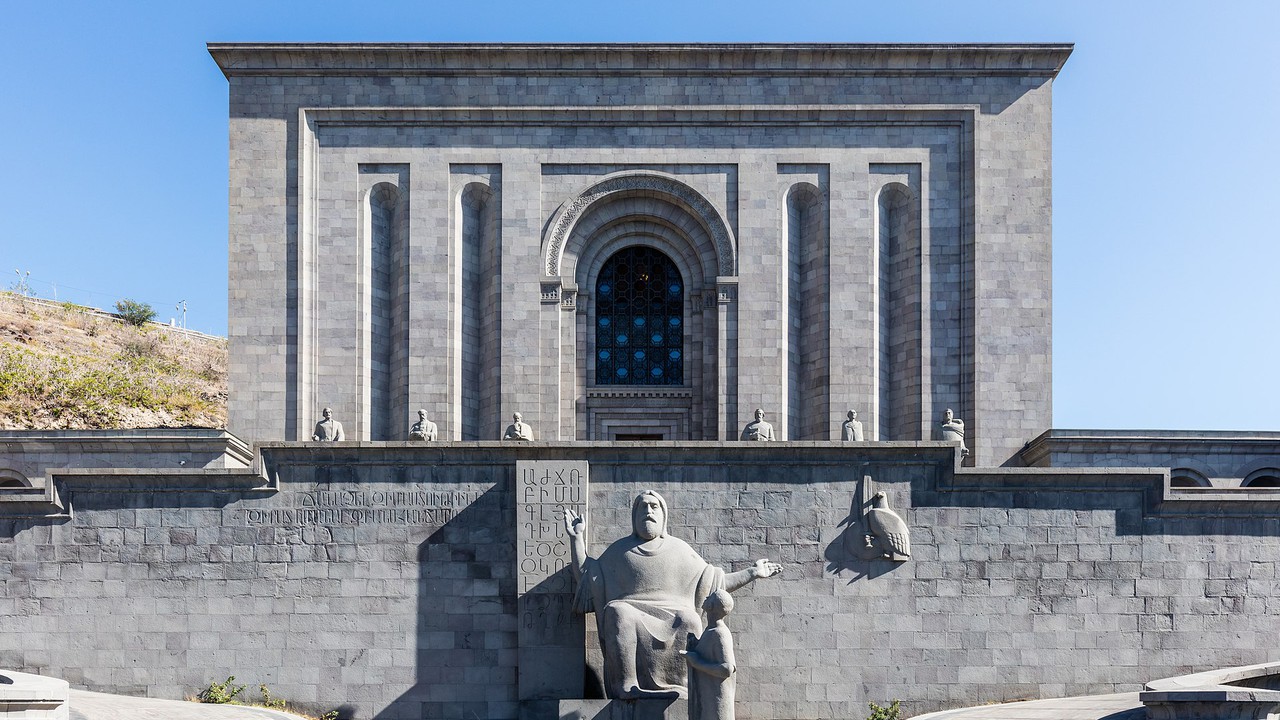 Mesrop Mashtots Research Institute of Ancient Manuscripts. Matenadaran houses one of the world's largest collections of ancient Armenian manuscripts.
---
It is huge basalt building (arch. Mark Grigoryan) which is typical to Armenian architecture of Middle Ages. 
Matendaran was founded in 1959 on the basis of the state repository of manuscripts. The word "matenadaran" in translation from Armenian means a repository of manuscripts. In 1962, it was named after Mesrop Mashtots - the creator of Armenian writing in early 5th century.  
This  is the unique Institution of Ancient Manuscripts where 17 thousand manuscripts are kept, 14.5 thousand of which are Armenian and 2.5 thousand in foreign languages -  Arabic, Assyrian, Persian, Indian, Russian, Georgian, Latin and Ethiopian. Many of the books have ornamented or golden, silver and ivory covers stuck with precious stones. Currently, the collection continues to grow - a significant contribution to its expansion is made by representatives of the Armenian diaspora in Europe, the United States, etc. In 2011, a new Matenadaran building was opened, designed by Arthur Meschian, an architect better known as a musician, to house a growing number of manuscripts.
Inside the lobby of the building one can see the mosaic of Avarayr Battle and the Armenian History triptych fresco around the staircase (artist Van Khachatur). In the front of the entrance of the Matenadaran there is a statue of Mesrop Mashtots and Koryun - a historian in the 5th century, the student of Mesrop Mashtots.
Along the front arches of the building, there are statues of great figures of Armenian culture who made an invaluable contribution to the historical and cultural life of Armenia: monuments to Movses Khorenatsi, Mkhitar Gosh, Frik, Toros Roslin, Grigor Tatevatsi and Anania Shirakatsi. Looking at the building, it seems that if those statues are the guardians of the Matenadaran.
The oldest fragments of the manuscripts date back to the 5th-6th centuries, the oldest illustrations and miniatures are in the Gospel of Etchmiadzin, which dates back to the 6th century. The oldest complete manuscript is the Lazarus Gospel dating to 887, the largest is the Charentir of Mush (Holy Apostles Monastery of Mush, 1200-1202, 70.5×55 cm, 27.5 kg), and the smallest is the Calendar (1434, 4×3 cm, 19 g).

In Matenadaran, research work is being carried out on the study and publication of monuments of Armenian writing, the study of the problems of textology, source study, paleography, medieval book painting, historiography.

VISITOR INFORMATION 
---
For group visits (more than 5 people) it is necessary to agree in advance (phone: +37410 562 578).
For groups of more than 15 people the radio guides are provided free of charge.

On the last Saturday of each month, the entrance to the Matenadaran is free only for the citizens of the Republic of Armenia. The tour is paid according to the price list.
At the Matenadaran Museum Complex, visitors and guests are given explanations in 8 languages: Armenian, Russian, English, French, German, Italian, Spanish, Persian.

COST
---
Entrance

Adults - 1500 AMD
Pupils - 200 AMD
Students (with a student ticket) - 300 AMD
Tours
The Armenian tours - 3000 AMD
The explanation for 1-10 visitors in foreign languages - 5000 AMD
The explanation for 11 and more visitors in foreign languages - 7000 AMD
WORKING HOURS
---
Tuesday to Saturday
Museum: 10:00-17:00

Tickets: 10:00-16:30
Library: 10:00-17:00
Reading Hall: 10:00-21:00
Sunday, Monday & Holidays: closed
CONTACTS
---
Museum: +37410 562 578

Tickets: +37410 513 014
Library: +37410 513 030
Reading Hall: +37410 513 056
For the Press: +37410 513 065
---
53 Mesrop Mashtots Avenue