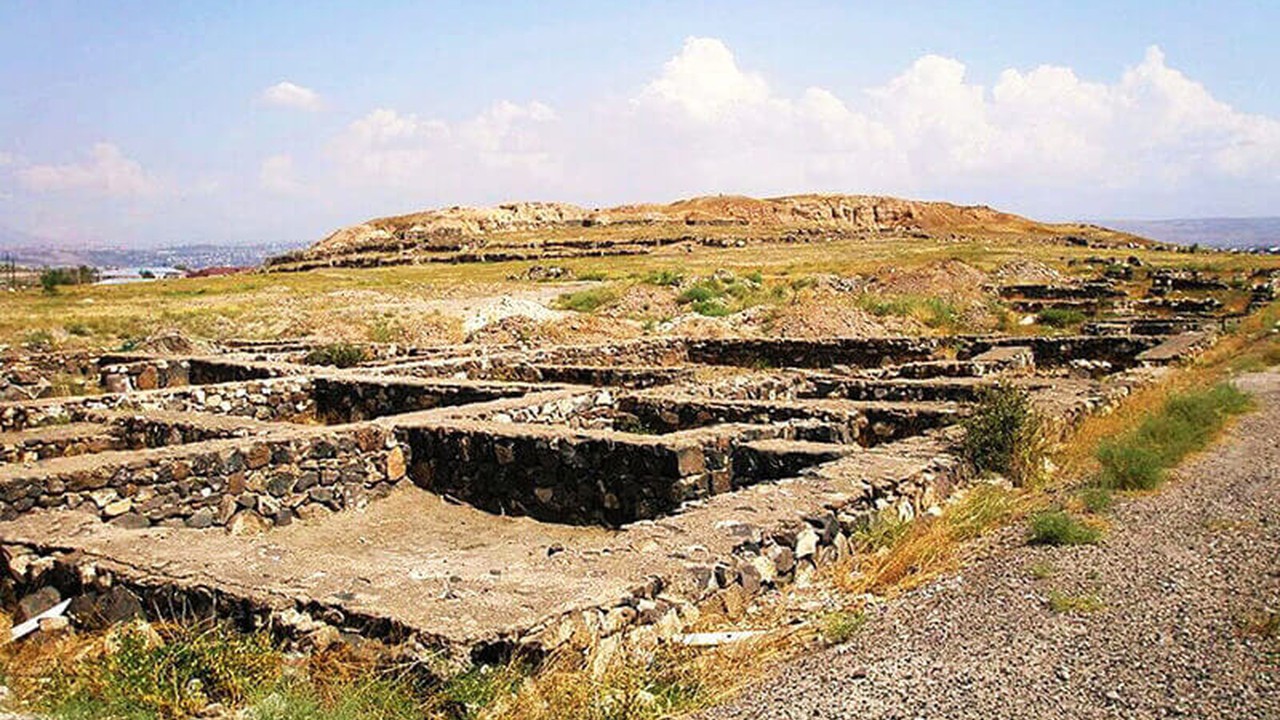 Karmir Blur (Teishebaini) Archaeological Site
---
The fortified city of Teishebaini was founded in 685-645 B.C. by Urartian King Rusa II, in honor of God Teisheba.
---
Karmir Blur (Red Hill), is located in the southwestern part of Yerevan, on the left bank of the Hrazdan River. Its name derives from the reddish hue of the hill, which occurred after the Teishebaini fortress town was set on fire. The upper walls of the fortress, made of red tufa stone, crumbled and fell, giving the hill its distinctive red color.
The fortress was constructed in the first half of the 7th century BC (685-645) by King Rusa II of Urartu, the son of King Argishti II. Its purpose was to fortify the northeastern borders against the Scythians and Cimmerians, who were considered barbaric tribes at the time. The fortress was named Teishebaini after the Urartian god of war, thunder, and storms, Teisheba. Rusa II transferred the riches of Erebuni Fortress, which had been founded by King Argishti I in 782 BC, to Teishebaini.
Teishebaini served as an administrative and economic center, featuring a double-storied citadel. Various facilities were housed within the fortress, including ceramic, military, and metalworking workshops, as well as storage areas for wine, beer, grain, and other provisions. The ground floor contained granaries and barns, while the first floor consisted of a colonnade hall and living spaces.
Before the collapse of the Urartian civilization, Teishebaini fortress-town stood as a stronghold of Urartu's rule in the Transcaucasian region. However, local tribes, namely the Scythians, eventually burned down the fortress. Although the Scythians failed to capture the stronghold, they succeeded in destroying it.
Archaeological artifacts discovered during excavations at Karmir Blur can be observed at the "Erebuni" Historical & Archaeological Museum-Reserve, situated at the foot of Arin Berd Hill.