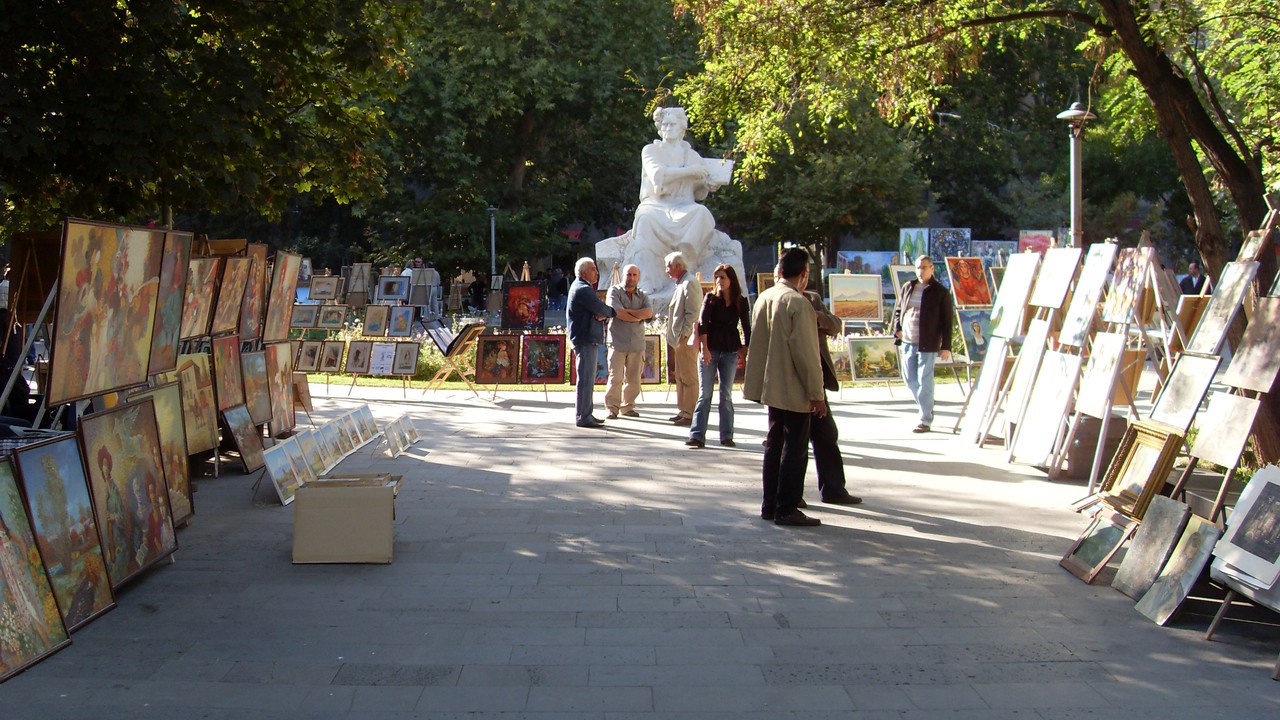 Art and beverage district
---
Saryan and Pushkin streets
---
Saryan Street is the continuation of Moskovyan Street and, to some extent, serves as a boundary between the Old Kond District and the center of modern Yerevan. The street starts at the Tumanyan Museum and Yerevan State Linguistic University on the opposite side.
The House Museum of Martiros Saryan is located on Saryan Street, after which the street is named Martiros Saryan the most famous and honored Armenian artist. He moved to Armenia in the 1920s and did his best for the cultural enhancement of the nation. He designed the coat of arms of Soviet Armenia, at the very center of which he placed Mount Ararat, which challenged the Soviet ideology. Being a great colorist, Saryan played a leading role in the formation of the 20th-century Armenian school of painting. His influence is so great that many Armenian artists of the newer generation have tried to move beyond Saryan's style, but seem to have failed. Have a look around Saryan Park and the Vernissage and you'll see dozens of Saryan imitations.
If you turn on Pushkin Street and go down a little, you'll see a small two-sided stele: on one side there is a high relief depicting the head of artist Hakob Kojoyan and on the other, that of sculptor Ara Sarkisyan. The stele serves as an information panel, pointing to the Kojoyan and Sarkisyan Museum housed inside the building. To enter the museum, you have to go down the stairs to the inner yard. There is a big house made of orange tuff among the tall buildings. This is where the sculptor and the artist once lived side by side.
The first museum floor is dedicated to Sarkisyan and the second to Kojoyan. Kojoyan's exhibition is incomplete, as many large paintings are housed in the National Gallery, yet you can see a great number of wonderful graphic works, early sketches, book illustrations, props for performances, and personal possessions. There are some very rare and funny works, for instance, cigarette packs illustrated by Kojoyan. Ara Sarkisyan's exhibition displays small forms of sculpture: decorative works, busts, portraits, and also little-known attempts at painting. You can also see copies of some of his major works, as Ara Sarkisyan was famous as a monumental sculptor. His masterpieces include the statues of Tumanyan and Spendiarov in front of the Opera House, and the sculptural group, "Sahak Partev and Mesrop Mashtots'' in front of Yerevan State University. The garden in front of the museum is also decorated with Sarkisyan's works.
St. Zoravor Church (Almighty) is next to the museum and in the same yard. It is one of the oldest churches in Yerevan, founded as far back as the 7th century. The church is surrounded by a small cozy garden, where you may see young sweethearts walking by. The building is made of orange tuff and was erected in 1693 after the former church was destroyed by an earthquake. It seems particularly bright among the typical featureless multi-story Soviet-era buildings. There are some khachkars (cross-stones) dating back to the 17th century engraved right into the walls. In the church basement, the relics of St. Anania are preserved, which is why the church is often called St. Anania.
THE BAR DISTRICT
---
In the evenings, the cultural streets become perfect places for gatherings, beverages, and music. Many locals and most tourists spend their evenings in the Beverage District. This area formed by Saryan, Tumanyan, Pushkin, Buzand, and Parpetsi Streets is where the most famous Yerevan restaurants, cafes, bars, and pubs are located. They are all very close to each other, so if you happen to get tired of one, you can easily move from one to another.
Over the past several years Saryan street became an attractive district where many wine houses have been opened and it became a lovely place both for the citizens and guests of the capital with a unique atmosphere. There are a number of wineries on Saryan Street representing unique wines from all over the world. However, it should be mentioned that Armenia is known as an ancient cradle of winemaking since old times. So if you want to enjoy a nice evening tasting wine, then visit Saryan Street to enjoy your evening. And it's no coincidence that "Yerevan wine days" festival is being organized right here.
In Yerevan, pubs are more popular than nightclubs. Pubs are cozy, lively, and always crowded. They used to mostly play classical, blues, rock, and lounge music. Foreigners are greeted very warmly everywhere and almost all places have an English menu.
Local beverages are especially popular for visitors. You should surely taste Armenian cognac, wine, and beer!
"STOP" is a rock club at the intersection of Moskovyan and Saryan streets. Here you will have the opportunity to enjoy bands and artists who may soon become world-famous, who knows? "STOP" Club has been the cradle for local bands such as Reincarnation, Katuner, Bambir, Suren Arustamyan, Dorians, and many more.
"The Beatles" Pub on Pushkin street is very popular among locals and tourists. You can easily guess the kind of music they play here.

On Pushkin Street on the left, you will see the popular Jazz club "Malkhas". This is one of the most offbeat and atmosphere clubs in Yerevan that is probably visited by each and every guest of the city. The club was founded by a famous jazzman and pianist known as Levon Malkhasyan or Malkhas in 2005. During the years of the club's existence, such jazz stars as Georgy Garanyan, Igor Boutman, El Jarrow, Stanley Jordan, Bobby Sanabria, and George Benson have performed here. High-quality jazz music is performed by Aramo and Malkhas's fellow musicians, and after midnight Malkhas himself performs. Every night from 9 pm to 3 am it costs some amount of money for a table, but it is definitely worth it.
Is it easy to get to the Beverage District, but it is incredibly difficult to leave it. Slowly but surely, it sucks you into the allure of Yerevan nightlife. Yerevan clubs and pubs are usually open till 4 am. You have better reserve a table beforehand.