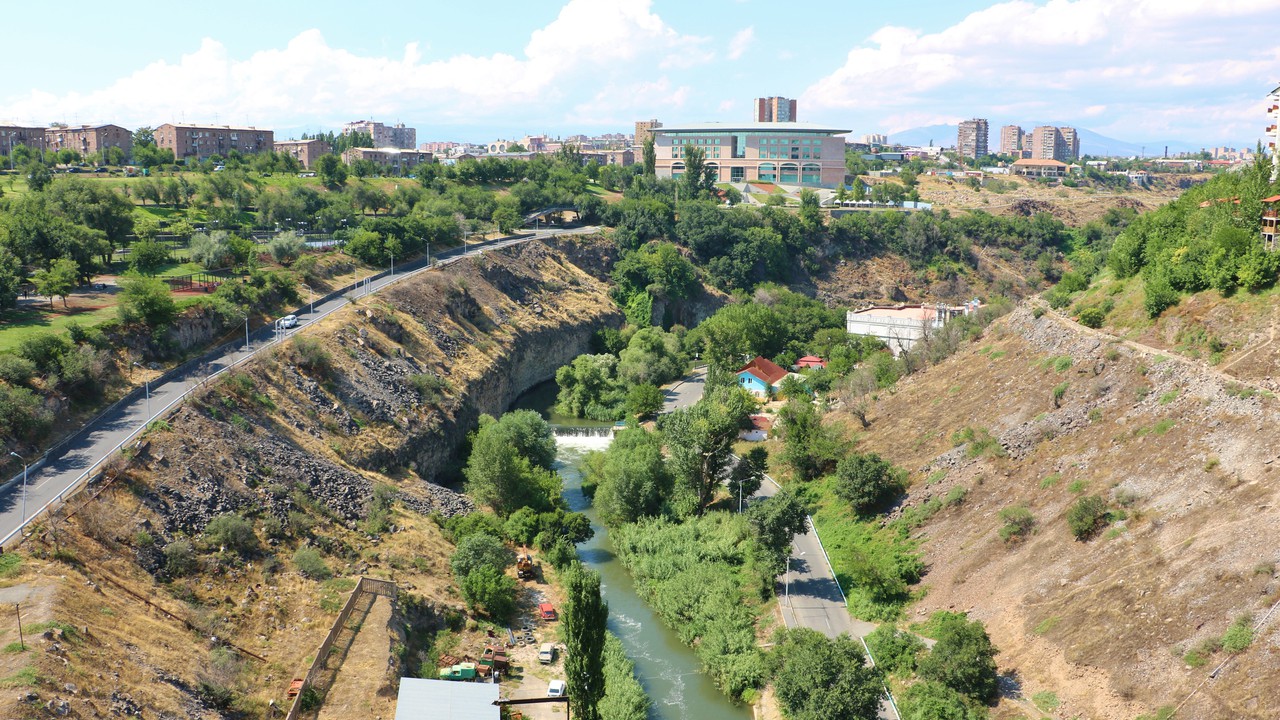 Hrazdan gorge is one of the unique business cards of Yerevan. This wonderful natural resource is one of the most important cultural, tourist, sports and entertainment places in the city.
---
Yerevan is one of the coastal cities of the Hrazdan River, which has been inhabited since ancient times. The best proofs are the caves found in the gorge of the river as well as tools belonging to ancient people.

The Hrazdan or Zangu (Urartian: Ildaruni) river is the left tributary of the Araks, which originates from Lake Sevan. A large section of the river, about 15 km, flows through Yerevan. The beautiful views of the gorge are visible from different parts of the city. ''Nor Arabkir'' park is located in the middle part of Hrazdan Gorge, and next to the recreation area ''Yerevan Zipline Airlines'' is located.
''Yerevan Zipline Airlines'', as it is called, is a thrill and a unique thing to do in Hrazdan Gorge if you find yourself wanting to see the city from a different perspective. This is the only zipline in the world that passes underneath a bridge (Davitashen). Tumanyan Park also known as ''Tumo park'' is located near the bridge, which is a wonderful place to hang out with family and friends. The breathtaking view of Hrazdan Gorge opens from the area of the park.
It will take you about 10 minutes to get to ''Yerevan Children's Railway'' through the tunnel next to Diana Abgar's park, which is a narrow-gauge railroad loop that passes through the Hrazdan Gorge.There is also a public open-air sports ground in Hrazdan Gorge called "Chrik'' or "Bidzu gyol" (a place of running water), where the elderly like to gather, exercise, or just spend a good time.
Yerevan Lake is located in southwest of Yerevan in the Hrazdan Gorge ( adjacent to Admiral Isakov Ave.), which is an artificial reservoir to regulate the flow of Hrazdan River and water usage.

Many centuries ago people left the caves and started to build fortresses and settlements in the highlands of Hrazdan gorge traces of which are still preserved. Later the settlement spread to the high plains of Hrazdan. This is how the city gradually evolved.

Currently, there are 3 bridges on the Hrazdan River: Davtashen, Kievyan, and Haghtanak.

In the Middle Ages, small processing enterprises (rice, cotton, etc. ) operated in the Hrazdan gorge, which used the water of the Hrazdan River in order to operate.

In the 19th century, during the process of transforming the master plan of the city, Hrazdan gorge was preserved as a natural green area for recreation and entertainment. This approach continued even after the establishment of Soviet Union.
During the state holidays, the residents of Yerevan visit the gorge to have a great time and get away from everything. They spread blankets on the grass, and have a picnic while enjoying the nature of Hrazdan gorge. Unfortunately, different parts of the gorge are privatized today.