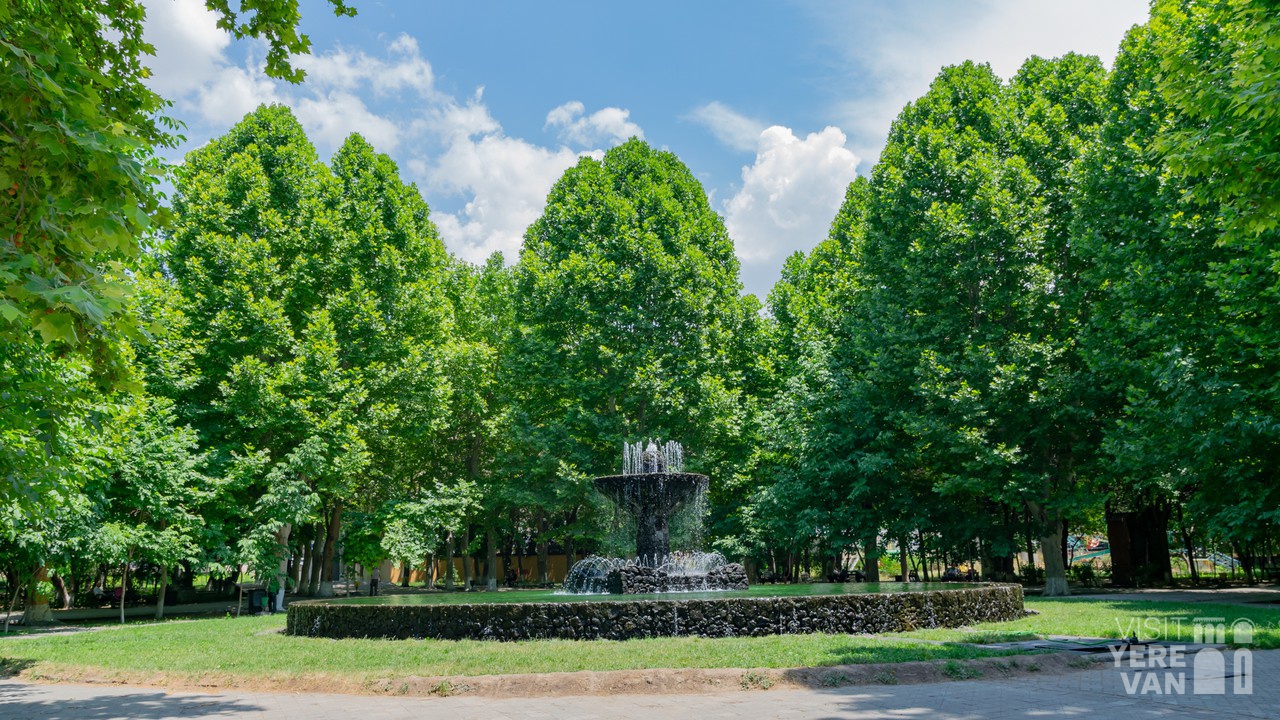 The English Park (Yerevan Theatrical Park or Komaygi) is the first public park in Yerevan. It is one of the oldest parks in Yerevan. It is located between Saint Grigor Lusavorich and Italy streets.It was founded in 1850, officially opened on October 3, 1910, and immediately became one of the most favorite places both for the citizens and the guests of the capital.
In 1898 serious changes were made when the mayor was Isahak Meliq-Aghamalyan. Then improvement activities were continued by the new mayor Hovhannes Melik-Aghamalyan who was Isahak's brother. He financed to bring various trees from Russia and Poland. The park was reconstructed in European style, and probably it was the main reason behind the name "English park". 

There is also another version according to which the park was named in honor of the foreigners who improved it, but the most probable version is the following: If you look at the park from the sky, its master plan looks like the flag of the United Kingdom. The English park is also called "Theatrical" because the Gabriel Sundukyan Academic Theater is located on the periphery of the park. During the Soviet Period, English park was turned into a pantheon of dead revolutionaries. The park was renamed after 26 commissars, which was later shortened into "Komaygi" by the citizens.

The park was renovated in 1919.  In 1920 the English Park hosted the first-ever football match in the modern history of Armenia when the teams of Yerevan and Alexandrapol met each other. The restaurant "Masis" was located in the park (currently this area occupies the French Embassy in Armenia).
The statues of the 'Water Salesman' (1970), Gabriel Sundukyan (1972) as well as Gabriel Sundukyan's fictional character Pepo (1976) are erected in the park. In the early 2000s, the park lost much of its territory. A new road, Italy Street, separated its northern side, thus a part of the park became isolated. Along the new road, a series of buildings were constructed, including the French Embassy in Armenia, the Italian Embassy in Armenia, and the Best Western Congress Hotel of Yerevan.
The isolated part was later reconstructed as Yerevan 2800th Anniversary Park. The Planetarium, which opened in 2020, is located in English park.  Here films are being displayed about the origin of the universe, the formation of stars, planets, as well as astronautics, and the development of space technology.