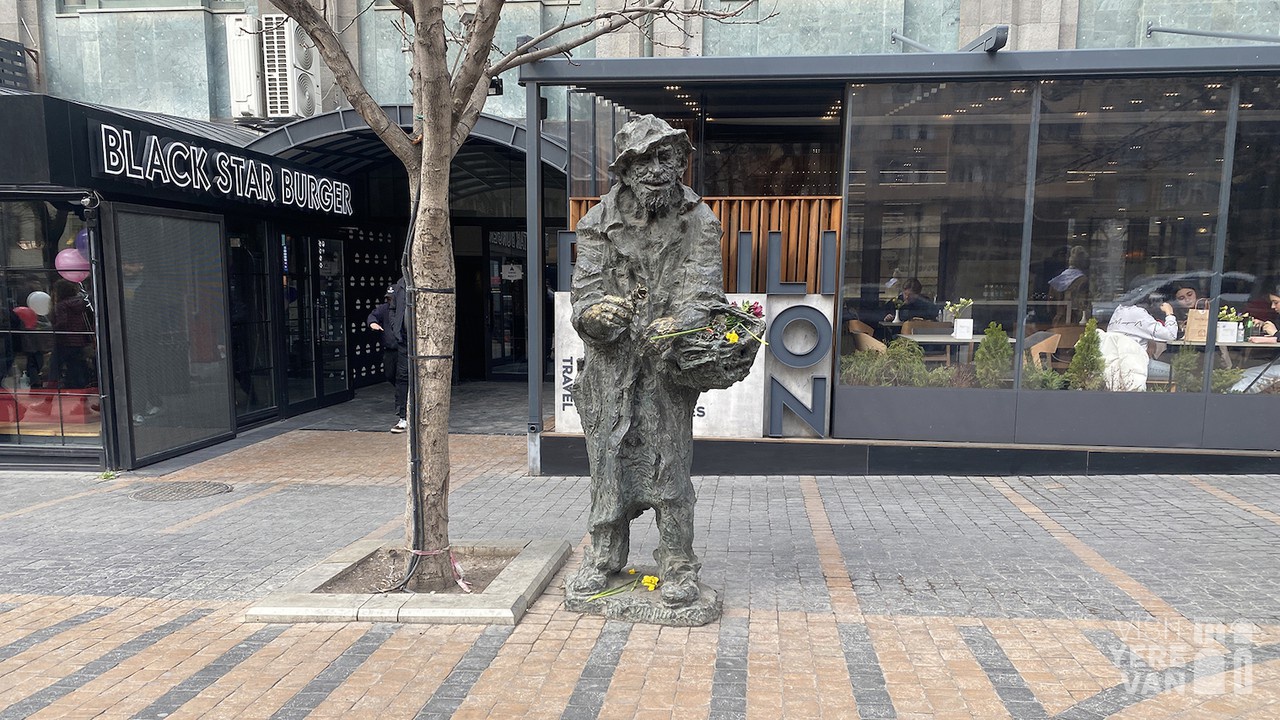 The flower seller Karabala
---
Sculptor: L. Tokmajyan
Material: Bronze
Year: 1995
---
Karabala is a curious fixture of old Yerevan, a legend often embellished by residents with each telling. Karabala (meaning "black boy"; his real name was Karapet) was a young man who grew and sold flowers and used to hand out roses to pretty girls who passed by. It is said Karabala used to give red roses to the Armenian actress Arus Voskanian who walked home each day from her theatre via Abovian street. Karabala got in a fight with a jealous man over the actress who stabbed him with a knife. Karabala instead stabbed his assailant, killing him. For this, he was jailed, ending in the same prison cell as the poet Yeghisheh Charents. Among the poems saved from Charents prison writings is one about Karabala, his "flower man":
He puts on a mackintosh
And then suddenly tatters.
I didn't know if he is an Artist or Karabala,
who is growing flowers.
On release, Karabala found his garden and flower stall destroyed, his wife and children gone. Karabala began wandering the streets giving out flowers thrown in the gutter, muttering 'I am not Karabala, I am "Dardi bala" ("boy of grief")'. It is also said there were witnesses who saw Karabala take food to Charents and secretly took out of prison the great poet's writings having hidden them under the flowers in his basket.
Legend says that when Arus Voskanian died, Karabala visited her grave each day, placing one rose on the grave. His story ends sadly. Alone and forsaken, Karabala was found frozen to death on the street.
Locals still love this romantically smitten figure, couples and passersby often leave flowers at his statue.