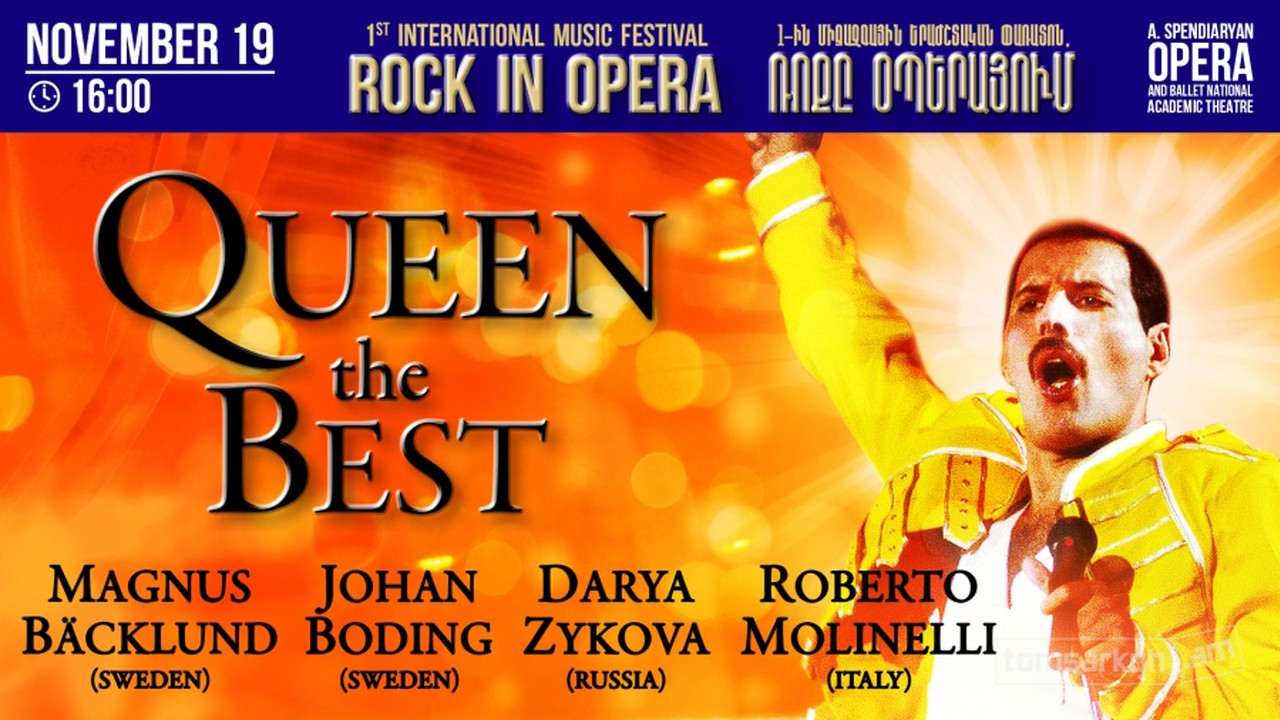 A. Spendiaryan Opera and Ballet National Academic Theater
QUEEN BEST HITS
MAGNUS BACKLUND, vocals (Sweden)
JOHAN BODING, vocals (Sweden)
DARYA ZYKOVA, soprano (Russia)
Conductor– ROBERTO MOLINELLI (Italy)

The Show Must Go On! The unforgettable voice of Freddie Mercury will forever remain in our memory. For all fans of the great singer – Queen Best Hits program. A new life and a new sound of the legendary hits of the "Queen" music group and the "Barcelona" album! A hurricane of emotions, a complete immersion in the atmosphere of an endless musical drive and the luxurious sound of the big Symphony orchestra, large-scale backing vocals, rock singers, opera prima and a wonderful conductor. Only the most popular hits of the "Queen" group: Bohemian Rhapsody, We are Champions, Don't Stop Me Now, We will Rock You, The Show Must Go On, as well as all other compositions of the "Barcelona" album!
The amazing creative union of two brilliant musicians of the 20th century Montserrat Caballe and Freddie Mercury gave birth to a unique album "Barcelona". The release of a joint album was preceded by two performances by Freddie Mercury and Montserrat Caballe. They performed together famous Barcelona, which Freddie dedicated to Caballe's hometown. On 8 th October 1988, three songs from this album were performed at La Nit Festival in Barcelona: "Golden Boy", "How Can I Go On" and "Barcelona". For Freddie Mercury, it was the latest performance. The title song of the album "Barcelona" was chosen as an anthem of the 1992 Summer Olympic Games in Barcelona.

By the 30th anniversary of the release of the album "Barcelona", Freddie Mercury's dream to perform all the songs of the album with a symphony orchestra was finally realized. ontserrat Caballe took part in the casting of artists for this project.